Why A Laser Projector Is better Than A TV
By XGIMI Tech - 2022-03
This is a blog about the benefits of investing in a laser projector when you want to replace your TV or buy a second TV. It highlights the benefits of laser projectors over TVs, such as eye safety and performance features. You'll learn about the benefits of investing in a laser projector when you want to replace your TV or buy a second TV. To expand your understanding, you'll also learn about the many benefits laser projectors provide over TVs, such as eye safety, laser light source lifespan, and performance features for superb viewing. Laser projectors offer better value for your money. Case in point, the XGIMI AURA laser projector offers an immersive audio-visual experience while providing easy access to all of your favorite content.
What Is A Laser Projector?
A laser projector is a device that projects changing laser beams on a screen to create a moving image for entertainment or professional use.
Put simply, laser-based projection offers longer-lasting brightness, lower maintenance, and improved color and contrast over similar lamp-based models.
A Laser Projector For Your Home Is Worthwhile
If you recall the number of TVs you bought over the years, you will perhaps think about the upgrades that you made to satisfy your requirement of a bigger TV screen, sharper pictures, better sound quality, and even connectivity with other devices. What if we told you that a laser projector is a technological masterpiece that can perform all the functions a TV can, and much more. As compared to lamp-based projectors, a laser projector offers brightness that lasts longer, truer colors, improved contrast, almost zero maintenance, and no generation of heat. With these features, you can experience fine viewing for many years without having to change the lamp frequently.
In today's world driven by technology, the laser projector is a beautiful piece of equipment that can provide you and your family hours of unalloyed viewing pleasure watching your favorite TV programs, TV shows, and live sports broadcast in a cinema-like atmosphere right in your home.
A Laser Projector Is A High Value For Money
There is always the question of affordability, and you may think a laser projector would cost a lot. In reality, a laser projector is extremely affordable considering the innumerable benefits it offers. It offers the highest value for money, and the TV does not stand a chance against it.
For instance, the XGIMI AURA ultra-short throw projector is available for less than $3000. At this price, you can view your favorite shows on any screen size you may desire up to 120". You could place the projector anywhere in your home. You can choose the screen size based on the room you use. On the other hand, a 75" TV with equivalent features from a well-known brand can cost you $3,000 to $5,000. Another leading brand sells its 146" TV at more than $16,000.
A Laser Projector Is Adaptable Anywhere In Your Home
A laser projector is adaptable to any environment you choose in your home without too much rearrangement. For instance, if you want to shift your TV from the living room to the bedroom, you would need to unplug several connections and plug them back again in the bedroom. This could involve a lot of adjustment and rearrangement in the bedroom also. Further, a laser projector is lighter and sleeker than a TV, and as such more convenient to maneuver.
It also blends aesthetically with the surroundings because of its sleek design and black and grey neutral colors.
People who can afford usually buy a second TV so that they can have one in the living room and one in the bedroom.
Perhaps the best advantage of a laser projector is its flexibility in terms of screen size. For instance, the XGIMI AURA ultra-short throw projector is capable of projecting onto a 120" screen when placing 11.7" from any wall or screen. You can also adapt to a room and reduce the screen size as required. You would not be able to do this when you buy a TV. If, after buying, you find that the TV screen is either too large or too small you are stuck with the mismatch.
A laser projector would be far more suitable if you plan to host a decent-sized gathering to watch a blockbuster movie. The TV straightaway limits the size of your audience to just a few.
A Laser Projector Is Safer For Your Eyes Than A TV
An important feature of a laser projector is its eye safety quotient. Your electronic gadgets and devices such as the smartphone, laptop, tablet, and TV have their light source, and when you use them, your eyes are looking at the light source, which is similar to looking at the sun directly. These devices also emit blue light. Blue light scatters easily causing you to blink less. All these lead to dry eyes and eye strain, more so in children than in adults.
The laser projector overcomes these problems because what you see on a projected screen is similar to looking at the moon at night. The moon reflects the sunlight, and you can see the moon directly without any strain. The XGIMI AURA eliminates harmful blue light and utilizes diffuse reflection imaging. This is very useful when watching for long periods. The AURA hosts an Intelligent Eye Protection system equipped with an integrated automatic light dimmer using advanced IR sensors. When it detects obstacles such as when kids accidentally get too close to the light, it dims the laser, protecting their eyes from harmful radiation.
The XGIMI AURA projector is a great replacement for a TV or addition to your collection of electronic devices. It is a top-end model with superior features that can give you hours of enjoyable viewing of your favorite content. It lets you have an immersive experience as well as protect your eyes from the harmful effects of blue light. You may be interested in how projectors protect your eyes .
Enjoy Immersive Viewing Experience With The XGIMI AURA Projector
An important requirement for an immersive experience is large screen size. The XGIMI AURA ultra-short-throw projector allows you to screen your content on a screen as large as 120". What is more, you can set the XGIMI AURA to suit any screen size that suits the place where you are viewing the content. This viewing would be similar to watching a movie in a top-of-the-line movie theater. You would especially love the experience when you are watching a fast-paced movie or sports broadcast.

A laser projector has features such as resolution, brightness, image enhancement, technology, and sound that blend well to offer you an immersive viewing experience as no TV can, or if there were one, you would pay an enormous price.

The XGIMI AURA is capable of bringing you the best audio-visual technology together seamlessly to give you an unparalleled viewing experience:

● Resolution – The XGIMI AURA features 4K resolution, offering crystal-clear picture quality
● Brightness - The XGIMI AURA is an ultra-short-throw projector equipped with a laser source delivering 1800 ISO Lumens without any loss of brightness.
●Setup - The AURA hosts a manual 8-point keystone correction feature through which you can adjust the picture size and quality to any setting you want.
● Image enhancement technology - XGIMI's X-VUE 2.0 image engine keeps all moving images smooth and clear retaining true colors via its 3 systems and 11 technologies to give you an immersive viewing experience
● Sound - Two 15W tweeters and two woofers deliver crisp highs, dynamic midranges, and ample bass. Unlock a rich, room-filling audio experience that fills your ears with deep individual sounds, allowing you to hear and feel more.

For optimal performance, you can set the screen size between 60" and 120", and the optimized ultra-short-throw projector will blow your mind away with a marvelous immersive experience.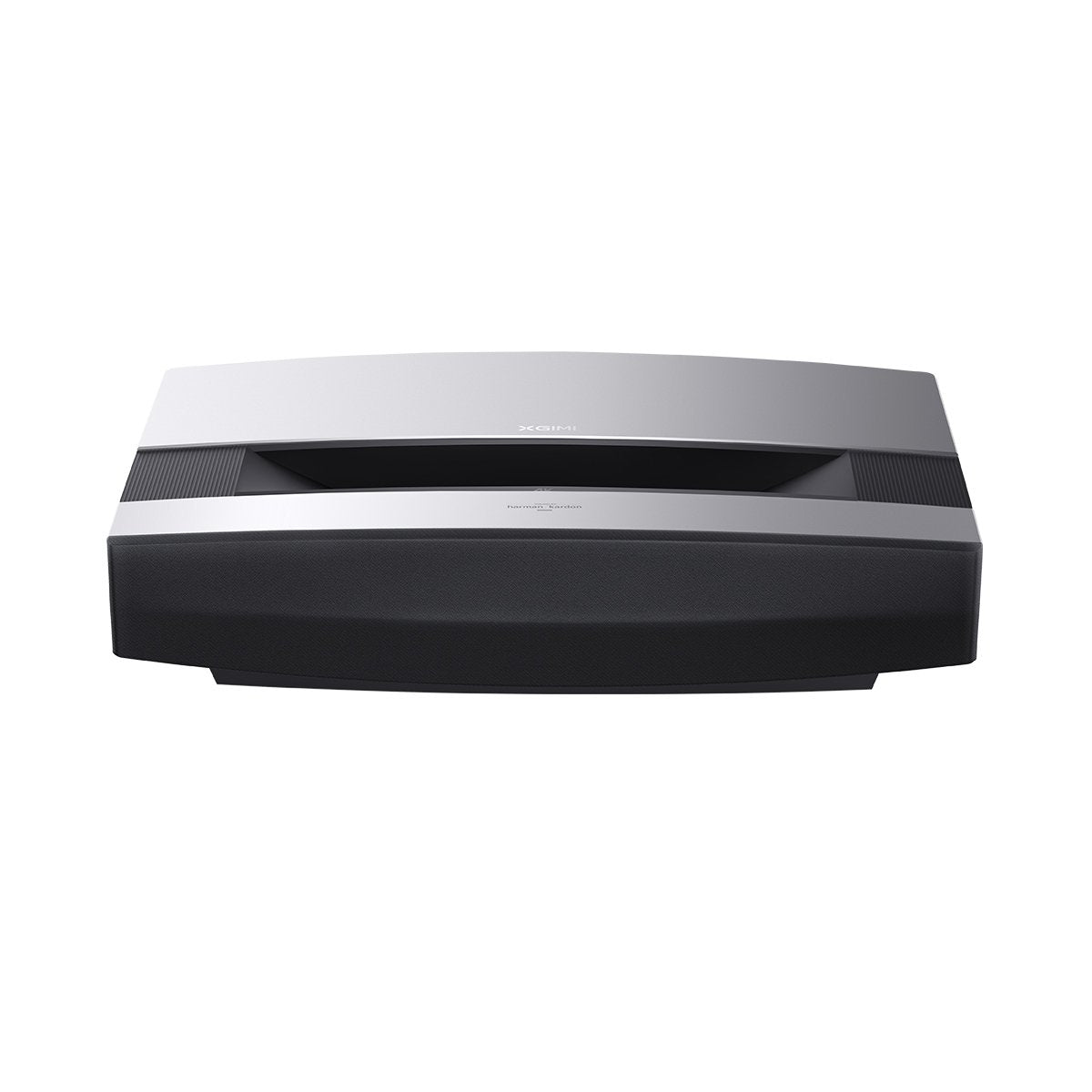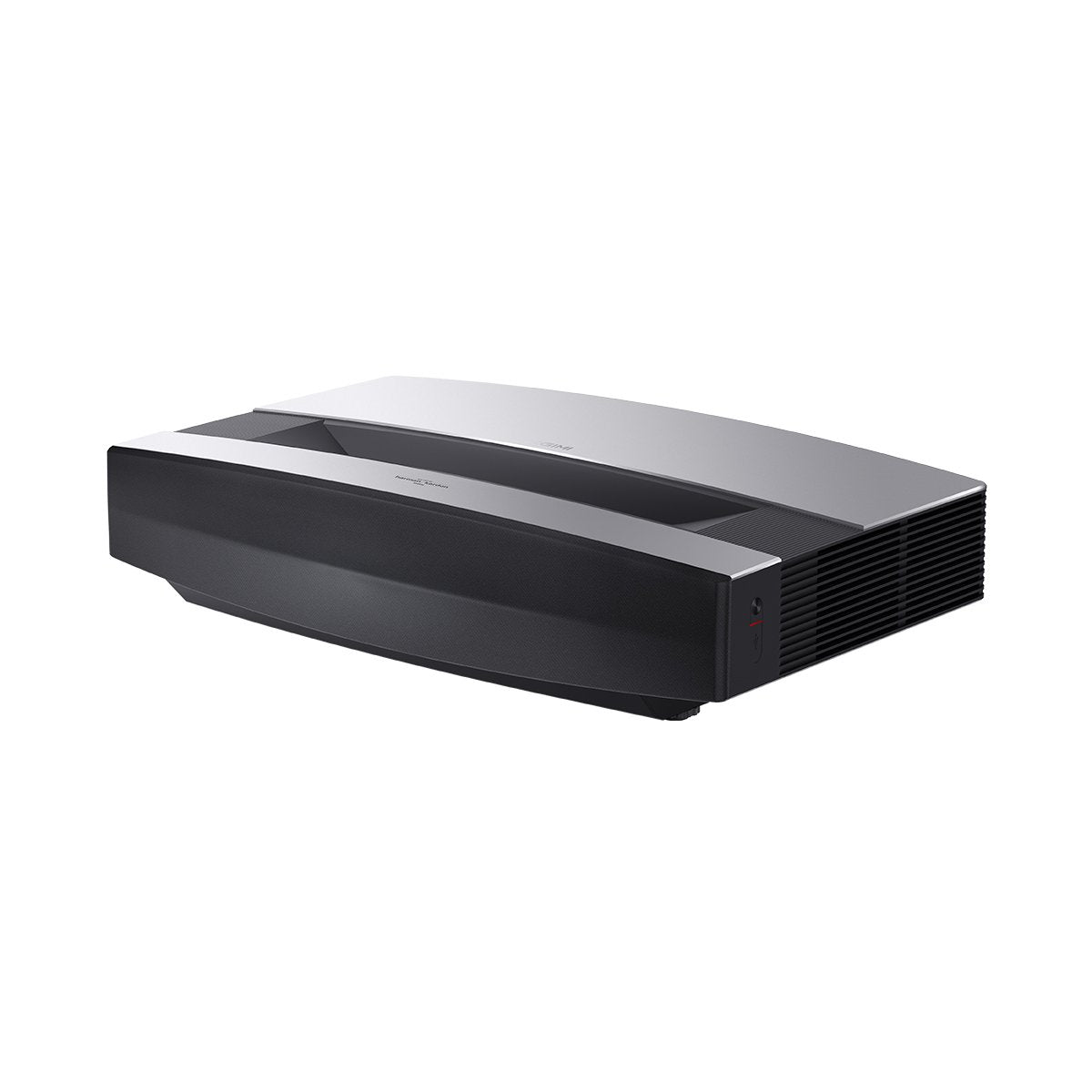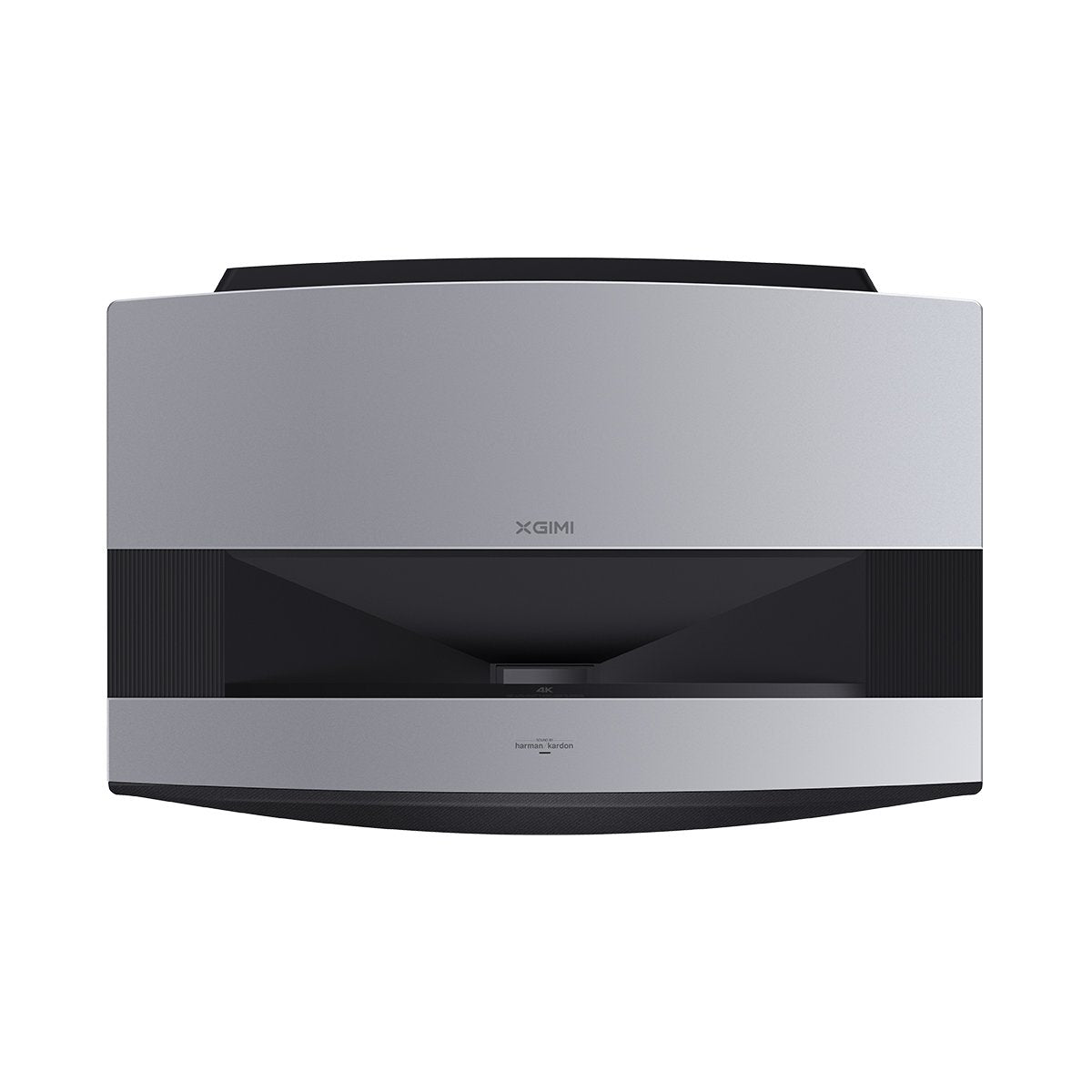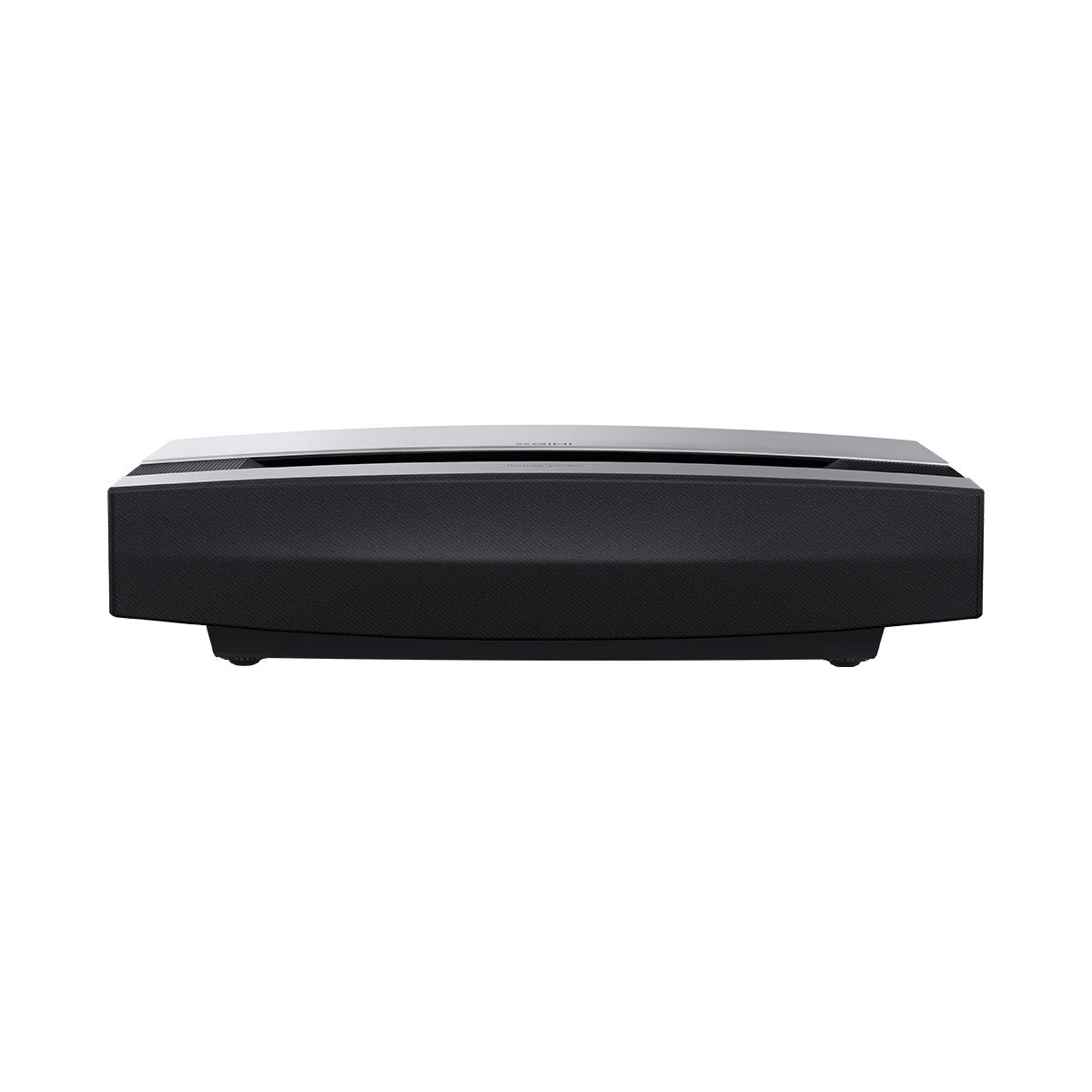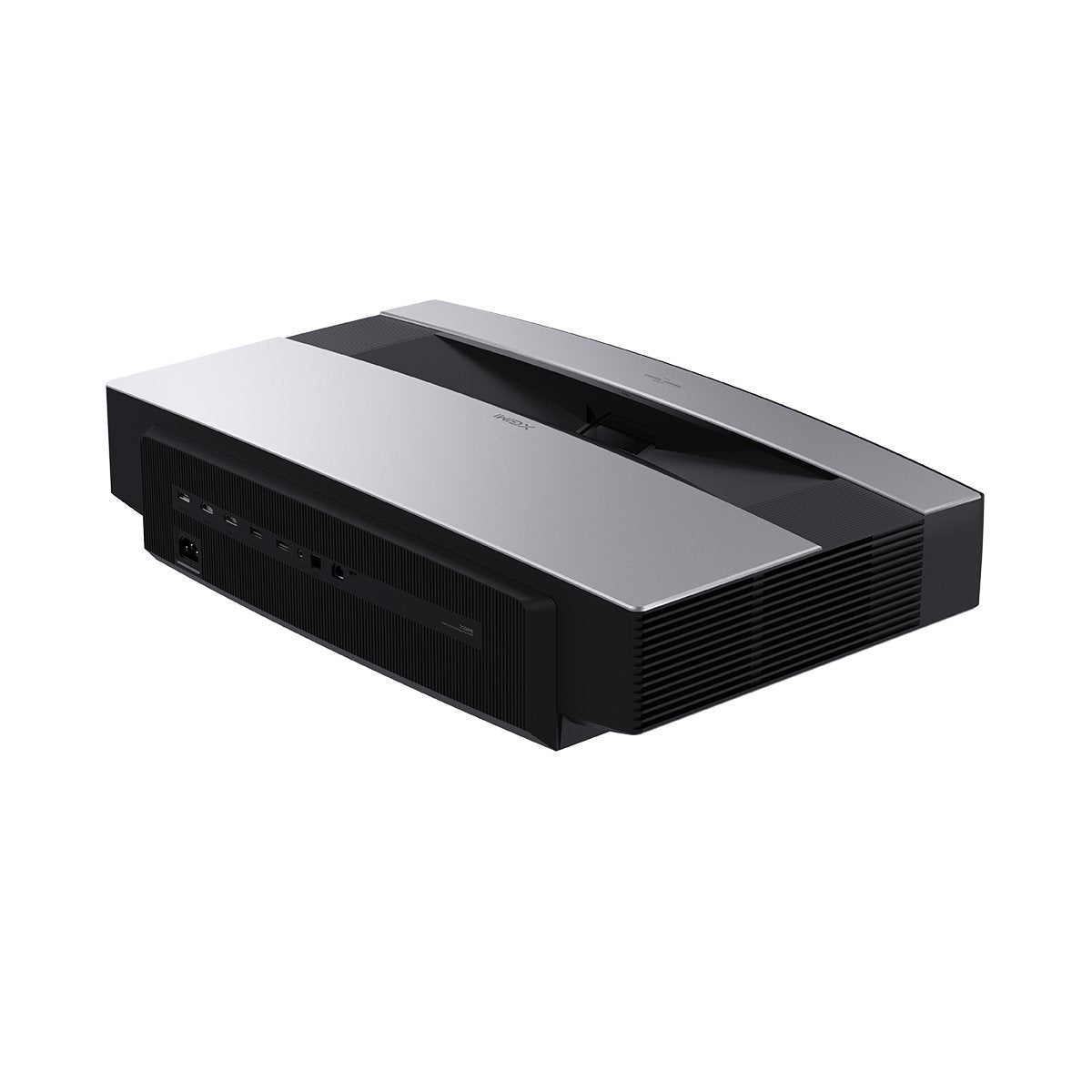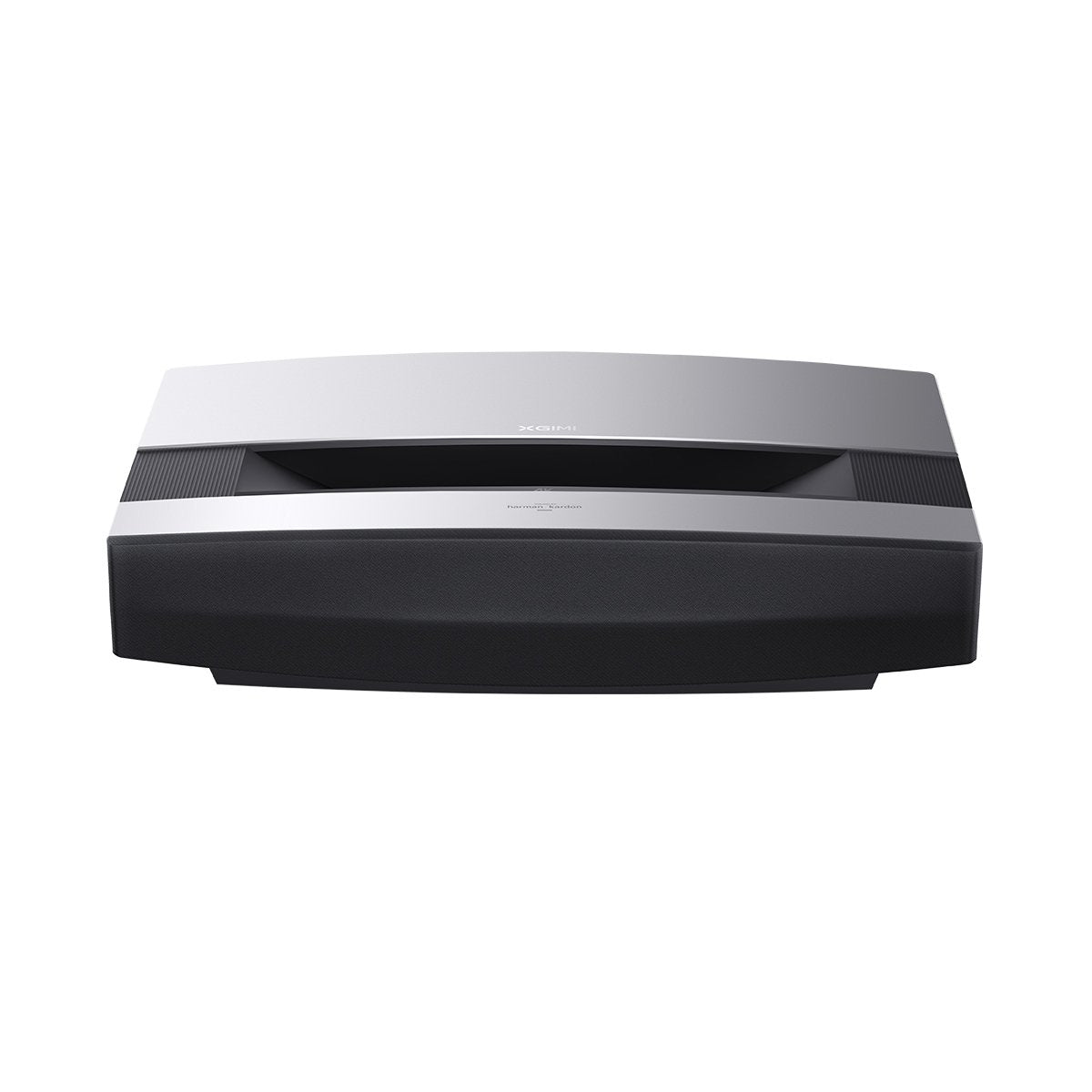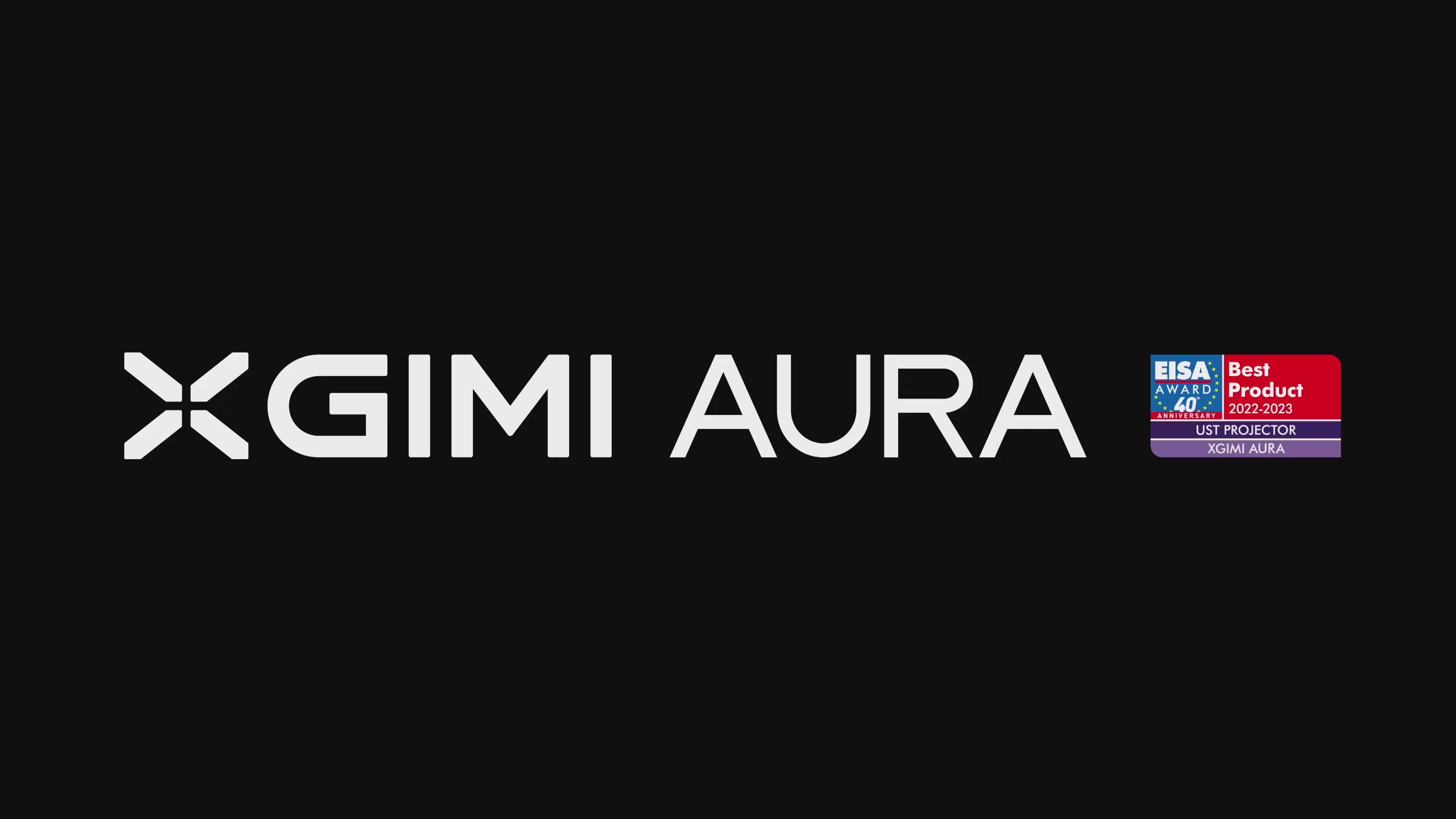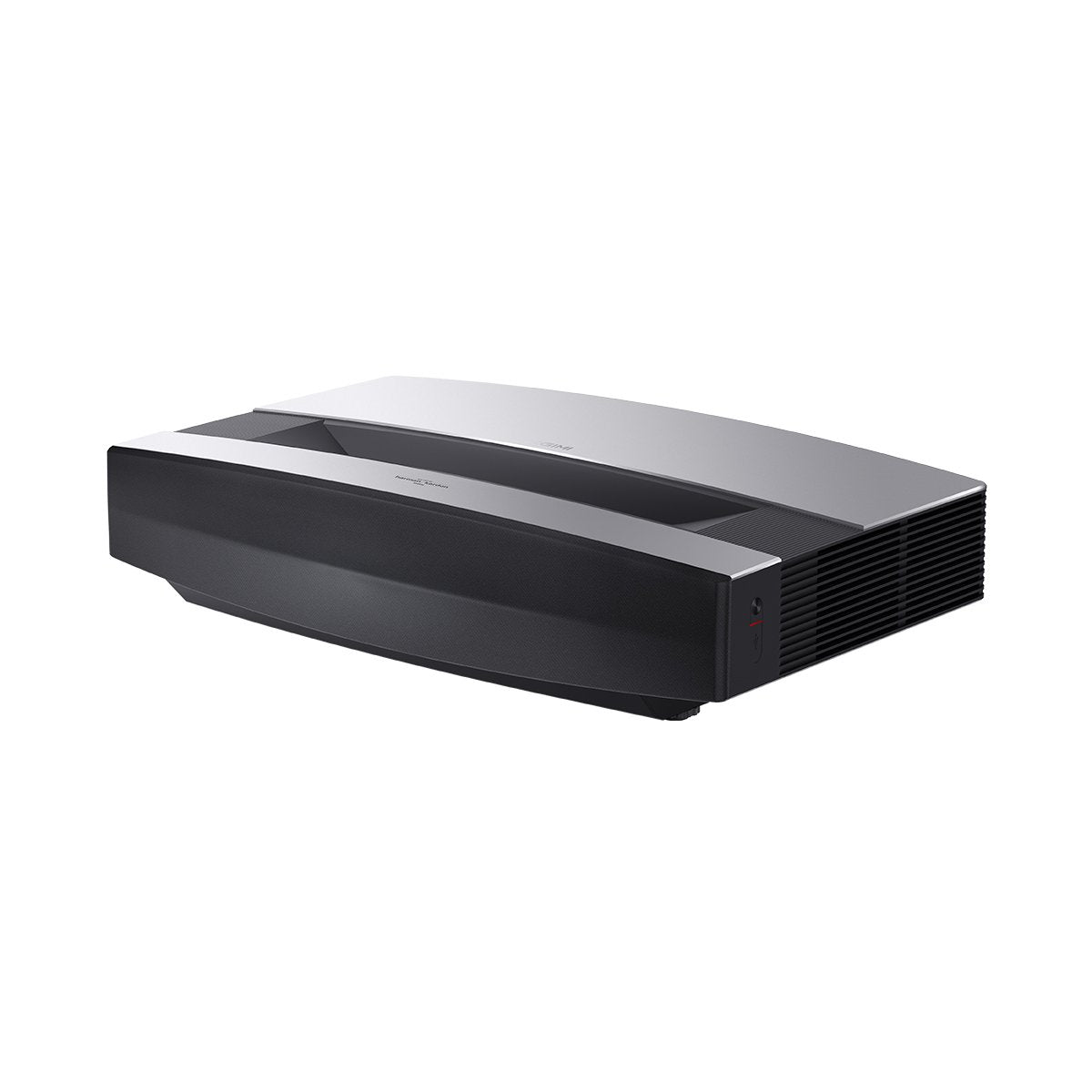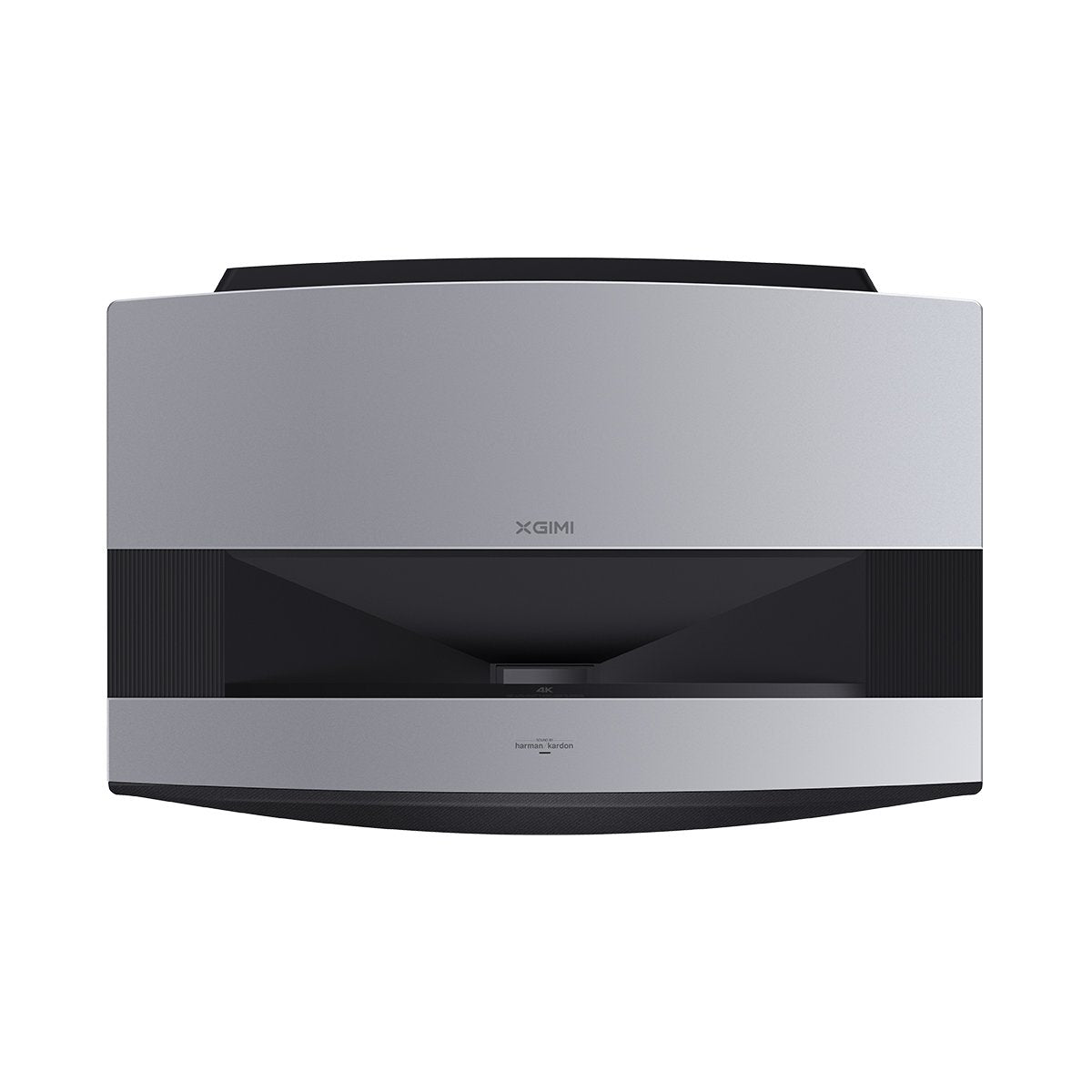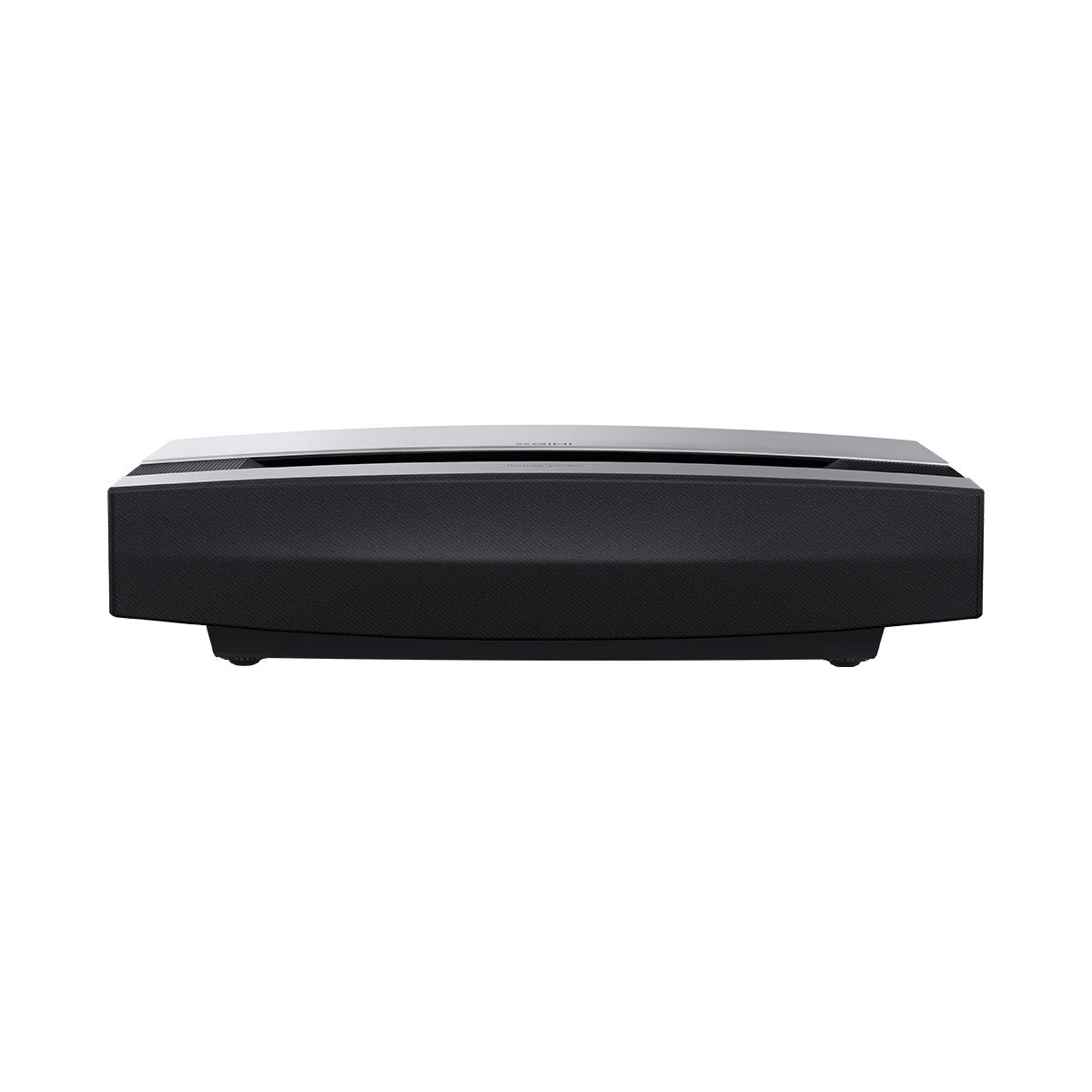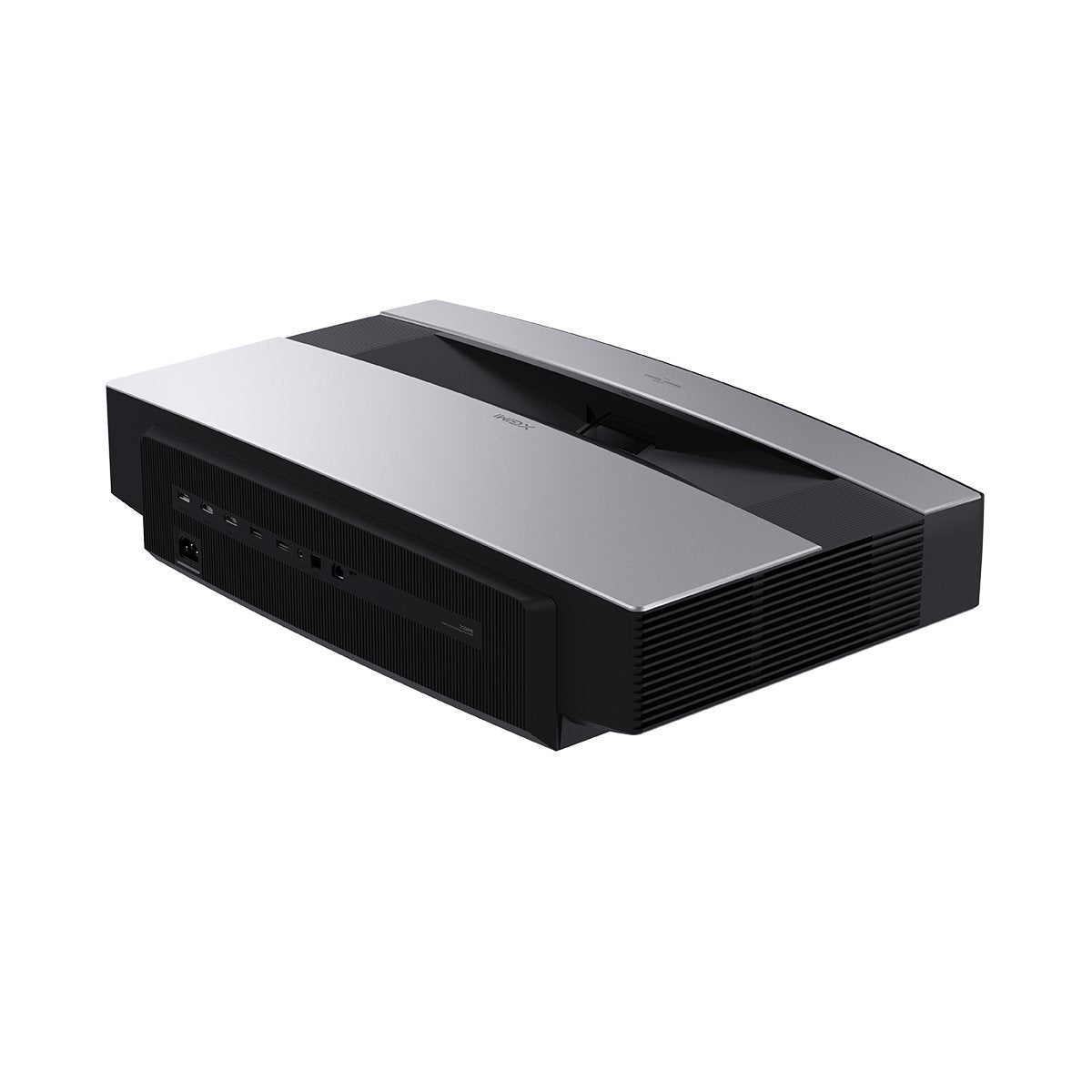 XGIMI AURA Is An Endurance Champion
While a TV can lose its brightness over the years, XGIMI AURA's advanced laser illumination and astonishingly rich color depth enable you to enjoy consistent brightness through its lifespan of 20,000 hours. This is equivalent to watching 4 hours a day for 13 long years. This is possible through laser technology that XGIMI uses in its projector. You will also indirectly help reduce environmental waste while saving money.
Good Reasons To Invest In An XGIMI AURA Projector
When compared to a TV, several benefits are accruing from investing in an XGIMI AURA laser projector.
The unique advantage of a laser projector is its ability to project images on a screen much larger than a TV screen. It can project a screen of various sizes from 60-120", which gives the freedom to use it anywhere in the home.
Another main advantages is that it is less harmful to the eyes than a TV. This safety feature should benefit children more as the harmful effects of looking directly at a light source (as at a TV) and blue light are more in children than in adults.
While AURA is bright enough to use even in spaces with medium to high ambient light with a 1800 ISO Lumens, its X-VUE 2.0 image engine and HDR 10 also provide an excellent image quality and is able to create an immersive viewing experience. Apart from these, the built-in Android TV™, Google Assistant, and Chromecast integration all make it a great choice.
The XGIMI AURA laser projector is a creditable replacement for your TV, giving you hours of viewing enjoyment for long years.
Get $30 off Your Next Purchase
Join the XGIMI Community Today!