Why A 4K Projector Is A Must-Have?
By XGIMI Tech - 2022-03
Introduction
Individuals often desire to recreate a cinematic experience in the comfort of their living room, and a 4K home projector can help make this possible. The pixel density of 4K is often considered the most natural. In-display, 4K refers to horizontal resolutions of about 4000 pixels.
There are mainly two kinds of 4K projectors; true 4K and enhanced 4K. Both deliver 4K content, but there is a slight difference when pixels are concerned. True 4K home projectors deliver a 3840 × 2160 resolution with 8.3 million distinct pixels for each frame.
Enhanced 4K adopts a more limited and slower version of technology, which mainly displays 4.1 megapixels but is fired twice to show seemingly 8.3 megapixels. Both 4K projectors produce excellently detailed images setting them apart from other projectors.
In terms of quality, details, sharpness, and other aspects, 4K projectors remain superior. As it stands, 4K UHD is the best projector resolution for several reasons.
For this reason, such images look more precise and more realistic, and less pixelated. Another reason for the superiority of these projectors is that they offer precise motion. The pixel shifting ability of these devices contributes immensely to this happening. 4K home projectors are highly suitable for watching movies as actions are displayed crisply and clearly.
In this article, you will find reasons to own 4K projectors like XGIMI HORIZON Pro and AURA.
Why You Should Care About 4K Resolution
Compared to other resolutions and pixel quality, 4K is the best choice for you. Before now, 4K UHD projectors were expensive, and very little content was available. However, technological advance has changed all of that as these projectors have become highly recommended today. If you consider acquiring a home theater, perhaps you should pay attention to the 4K home theater. You can learn more about the resolution here.
These projectors are steadily taking over homes and markets as more people are beginning to use them. If you are thinking of a quality projector to purchase, choosing 4K projectors would be the perfect choice for numerous reasons.
4K projectors reveal more color details in movies, pictures, and TV shows. Such is possible because they are fitted with a resolution that can reproduce the most intricate details in a noticeable higher contrast.
4K resolution in projectors also makes it possible to watch a giant screen from a comfortable distance. They often come with large screens so you can watch movies and TV shows from different parts of the room. With the more explicit details in color revealed, it is easy to follow your favorite content and not miss a single moment.
With 4K vs. 1080p, the projectors allow you to notice the difference in sharpness, color, detail, and resolution. Thus, images on 4K are smoother and more detailed than on 1080p. Edges of pictures, videos, and texts are also sharper on these projectors. More people are beginning to use these projectors due to their prominent display.
In addition to movies and picture viewing, 4K projectors have become essential in the gaming industry as it is gradually becoming the default on most new gaming hardware. The Xbox One X and PS4 Pro have now been offered the potential to be played in 4K with the new power 4K gaming.
Gaming consoles like PS5 and Xbox Series X also pair better with 4K resolution. In addition, streaming services and internet channels are steadily creating 4K content. Sources like Netflix, Amazon Prime Video, and YouTube now have 4K films and TV shows added to their streaming services.
4K projectors also perform better and are more compact than 4K smart TVs. With these projectors, you can adjust the size to easily fit the room's needs and occasions, while smart TVs stay the same way all the time. Finally, 4K resolution is now the new standard for the future as it is considered a measure of future-proofing. Such a development is possible due to the increasing number of content developed on 4K.
Product Recommendations
XGIMI offers 4K smart projectors that are sure to elevate your favorite movies, TV shows, and video games to new levels. XGIMI pairs its resolution with image enhancement features like MEMC, HDR10, and X-VUE 2.0 to deliver the sharpest imagery in the industry. The following are great 4K projectors for their unique and powerful features:
● UHD resolution/ 2200 ANSI lumens: Supports ultra-high-definition for crystal clear display and is fitted with 2200 ANSI lumens brightness just great for any environment, whether outdoors or indoors. So you can enjoy an excellent movie experience in different light conditions.
● Widescreen: HORIZON Pro can project between 40-200 inches so that you can watch your favorite shows from any corner of the room. Gaming with this device also becomes more memorable as its large screen makes it easy to immerse in the color and action.
● MEMC: Delivers low latency rates and eliminates image blur with its MEMC feature. This way, fast-paced movies and video games are projected easily.
● Intelligent Screen Adaption: The 4K home theater is designed with ISA technology which provides efficient functioning. The autofocus feature projects sharp images aligned perfectly through the screen alignment feature. With its obstacle avoidance feature, the screen is automatically resized to avoid obstacles on a wall or around the display area. Projected images are also maintained in a rectangular form as the auto keystone correction corrects such images vertically and horizontally.
● HDR technology: HORIZON Pro offers an excellent contrast ratio in dark and bright environments with the HDR10 technology. Thus, video content is enjoyed in detail.
● Cost-effective: HORIZON Pro is affordable at 4K resolution for a great movie and gaming experience. So, you can easily buy it and enjoy the best movie experience ever.
● Dual 8W Harman Kardon speakers: Supplies rich, room-filling quality sound for a beautiful movie and game experience.
● X-VUE 2.0 Image Engine: Offers natural and lifelike video and images display. Movies and video games are also supported with actual color when projected with this device.
● Multiple ports: ( 2× HDMI ports for gaming consoles or laptops, 2× USB for flash drives, 1× LAN, 1× Headphones) are available for varying content options.
● Built-in Chromecast/Bluetooth/WiFi: For mirroring the screens of smart devices, the 4K projector has a built-in Chromecast. HORIZON Pro also has Bluetooth 5.0 and WiFi compatibility as connectivity options to other smart devices.
● Android TV™: Runs on Android TV™, which gives easy access to over 5000 apps like HBO Max, Disney+, HULU, and many more, which offer unlimited entertainment.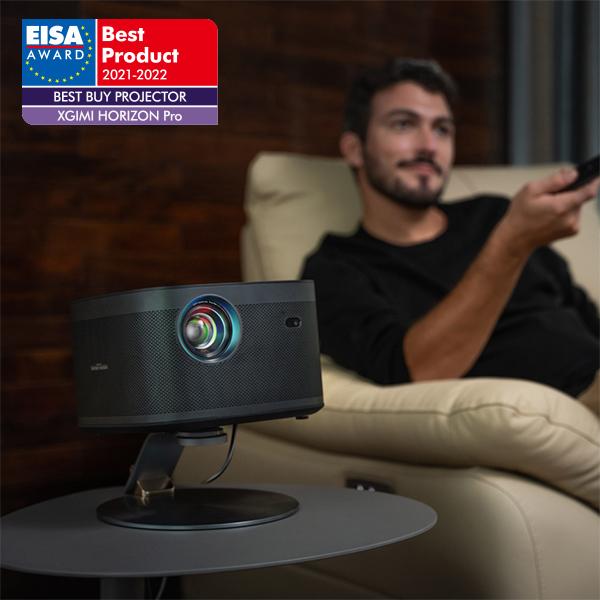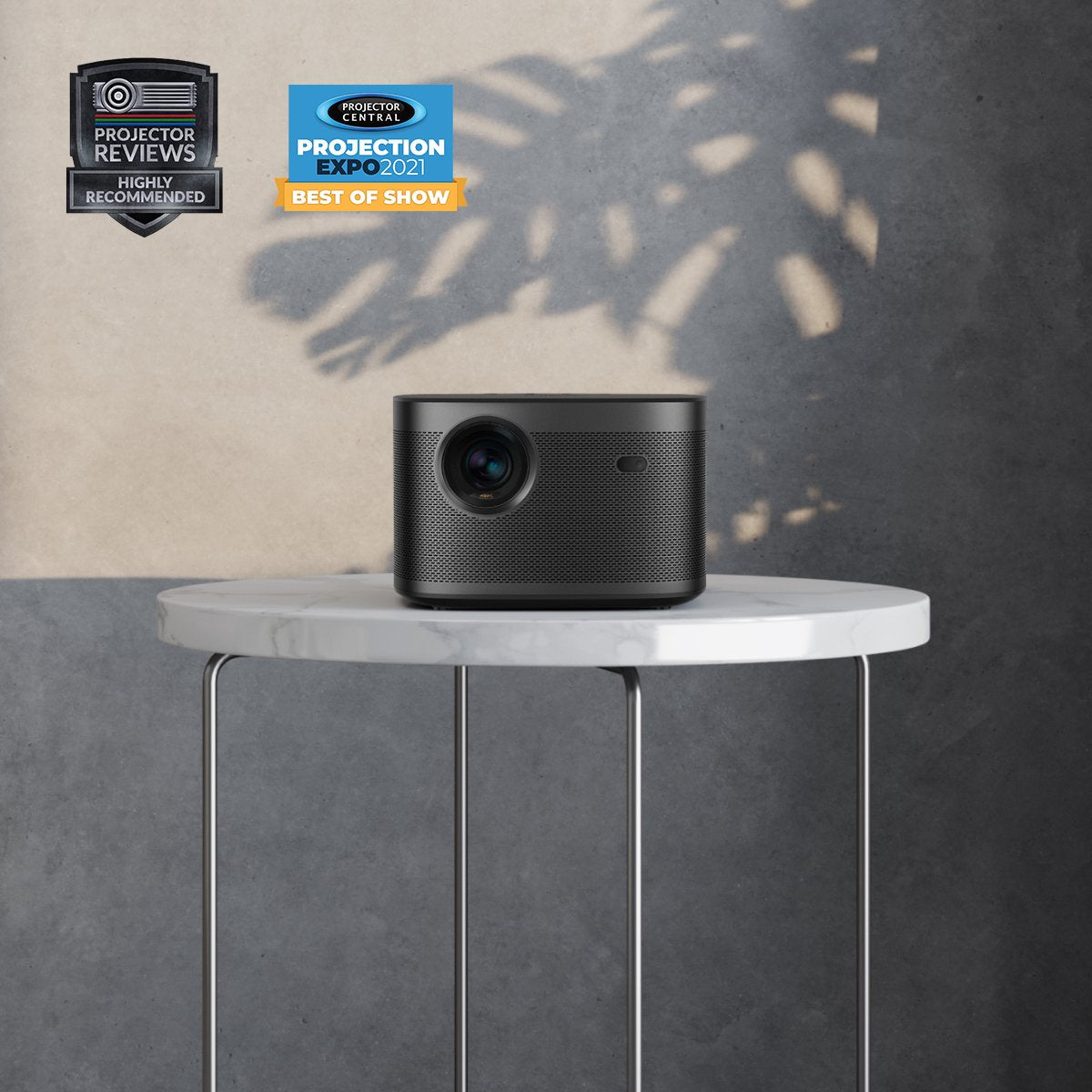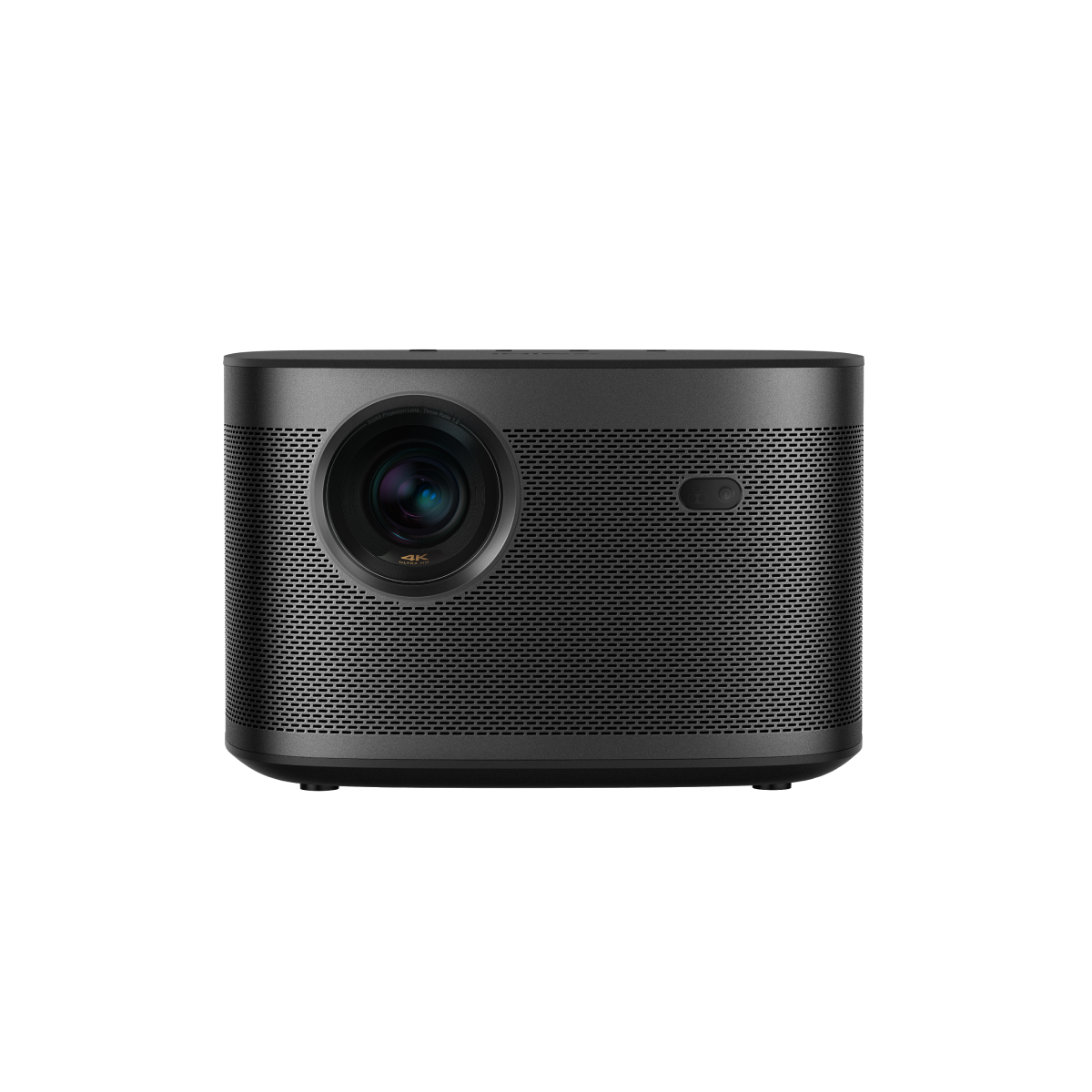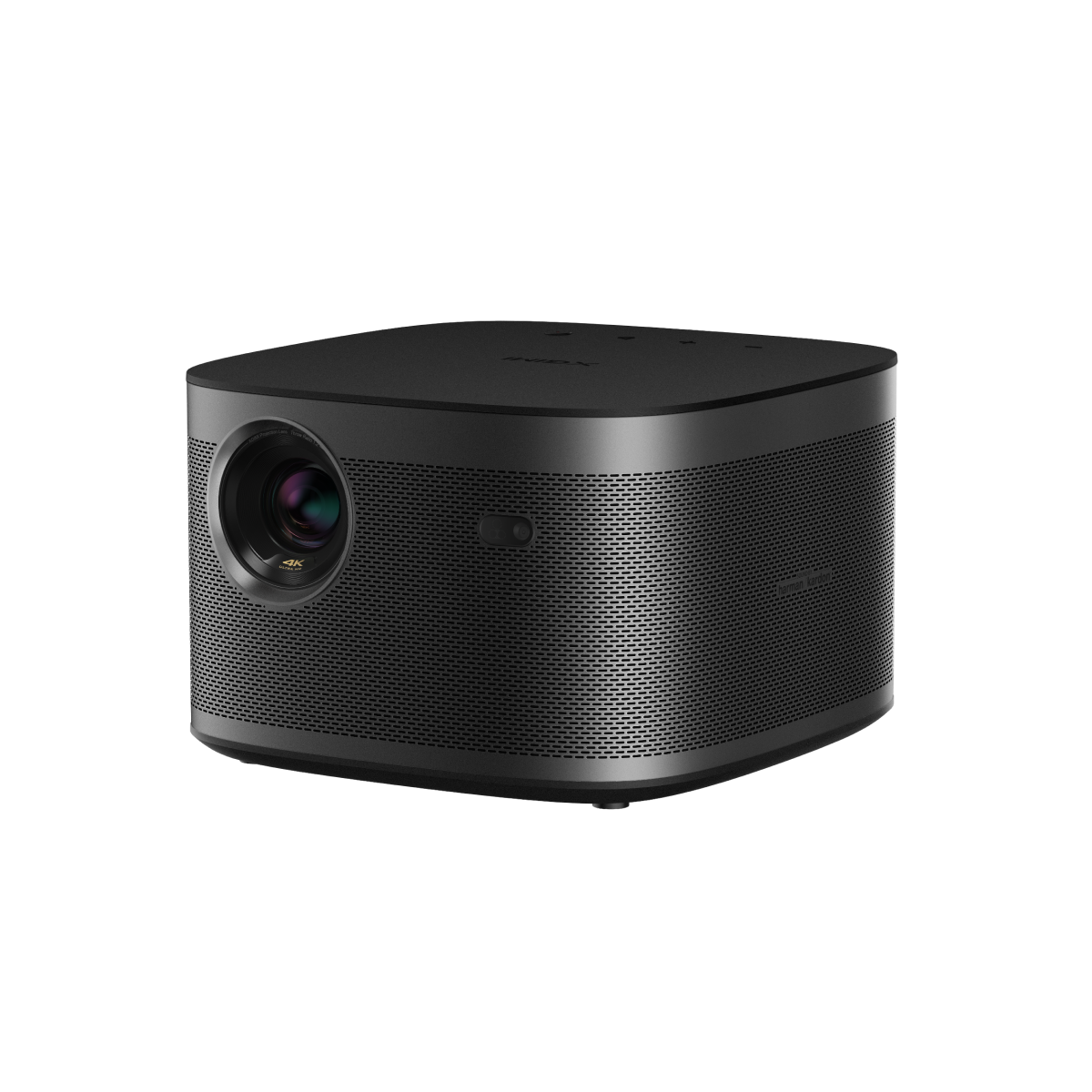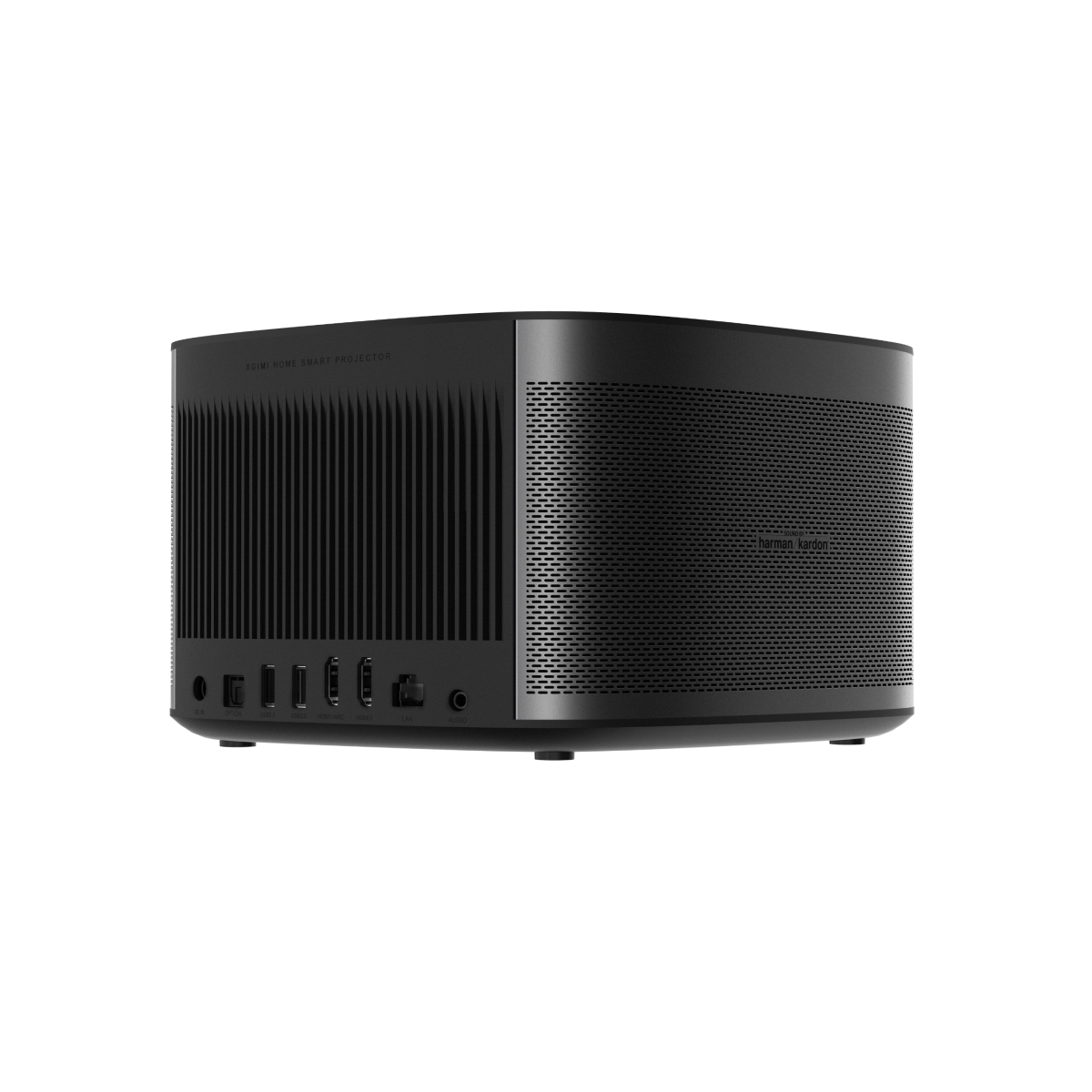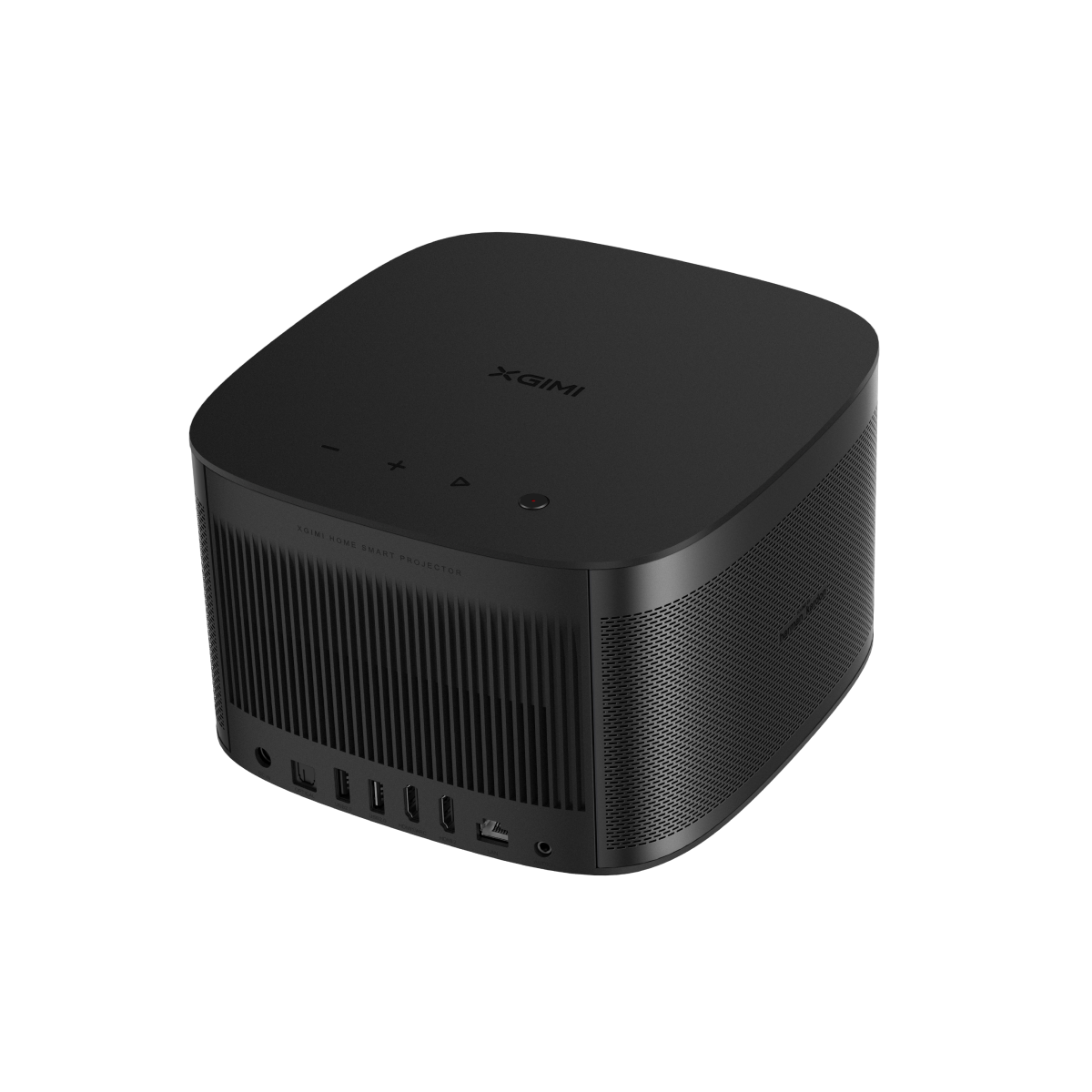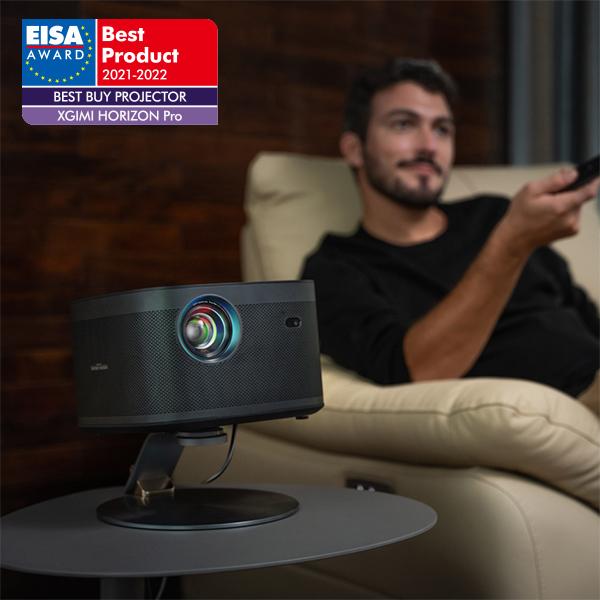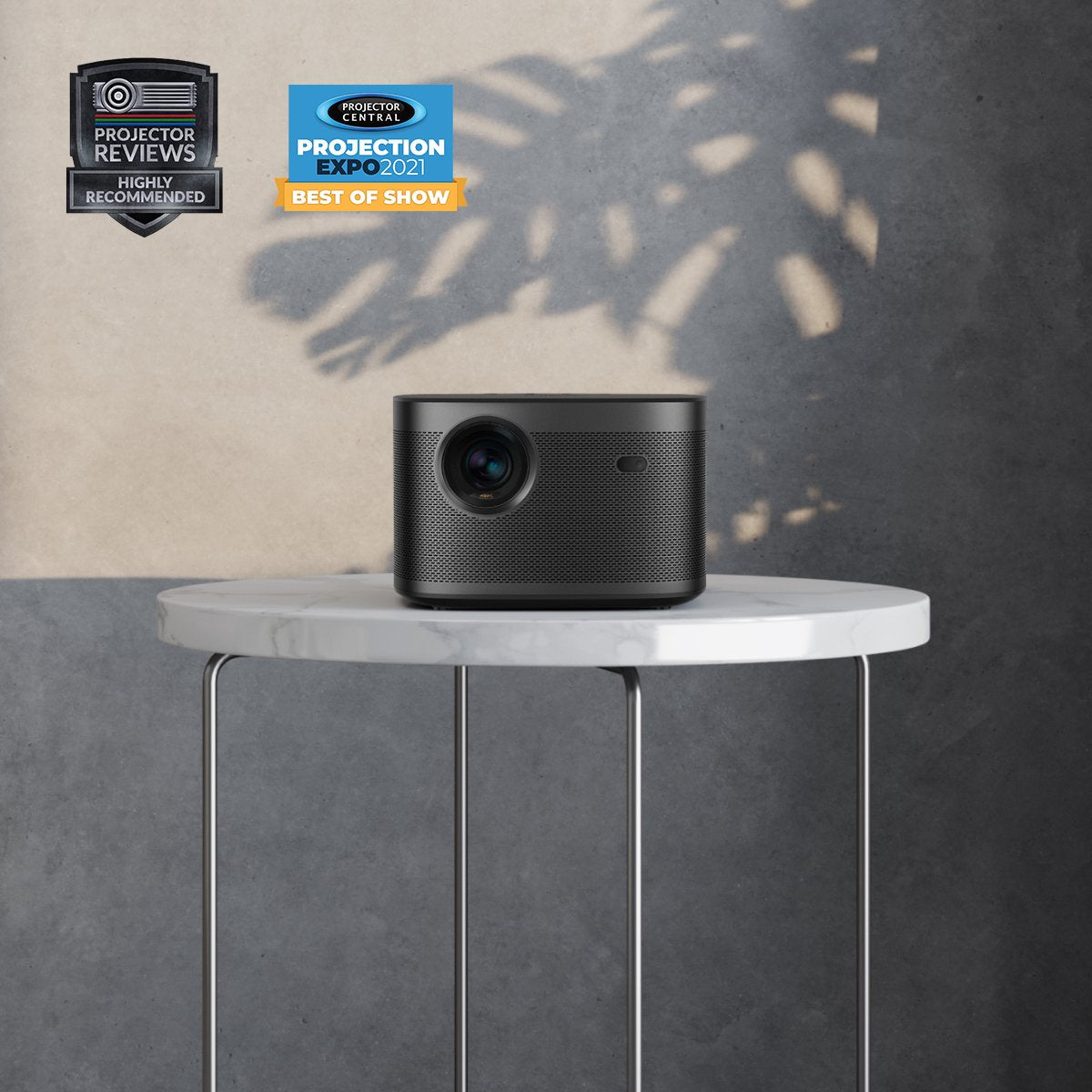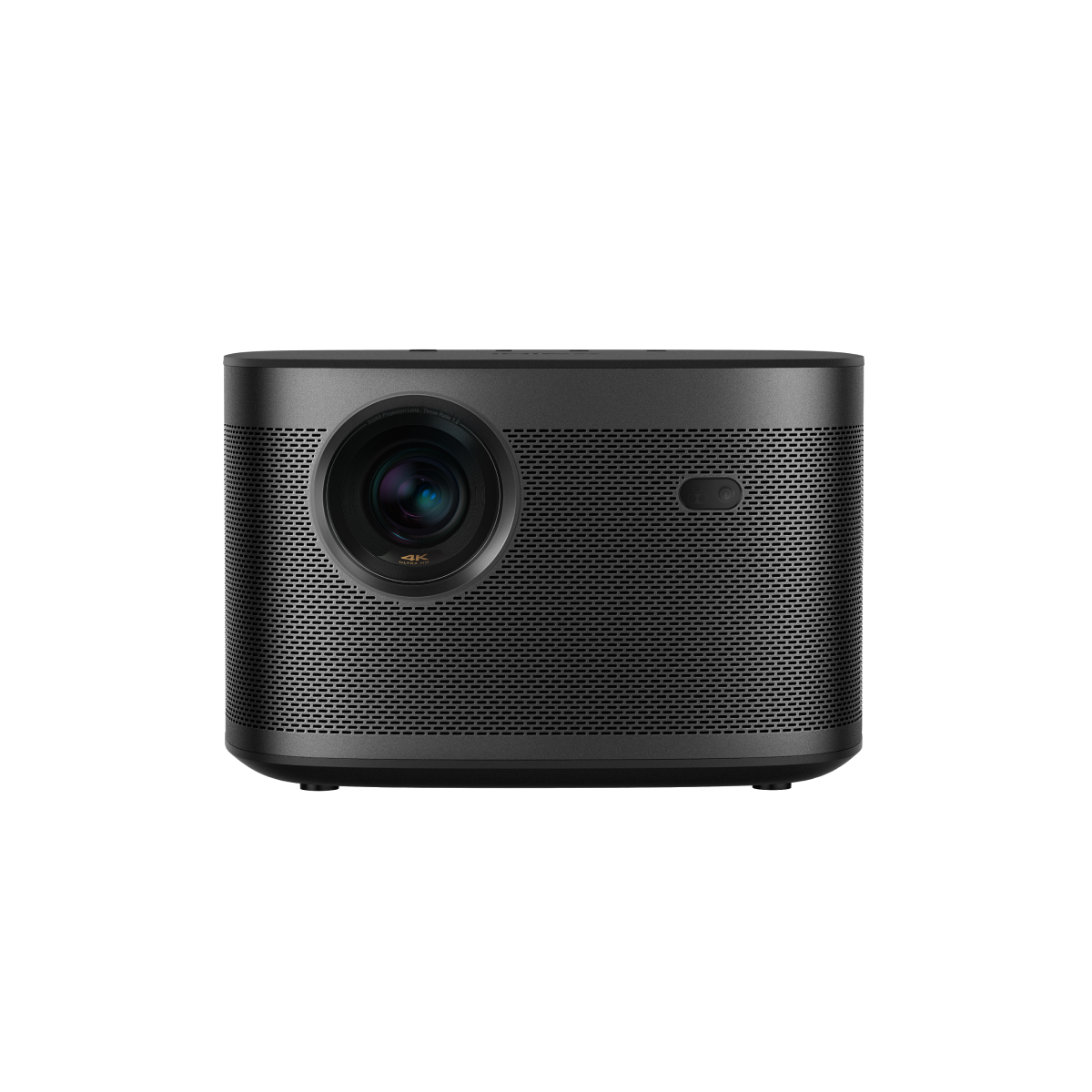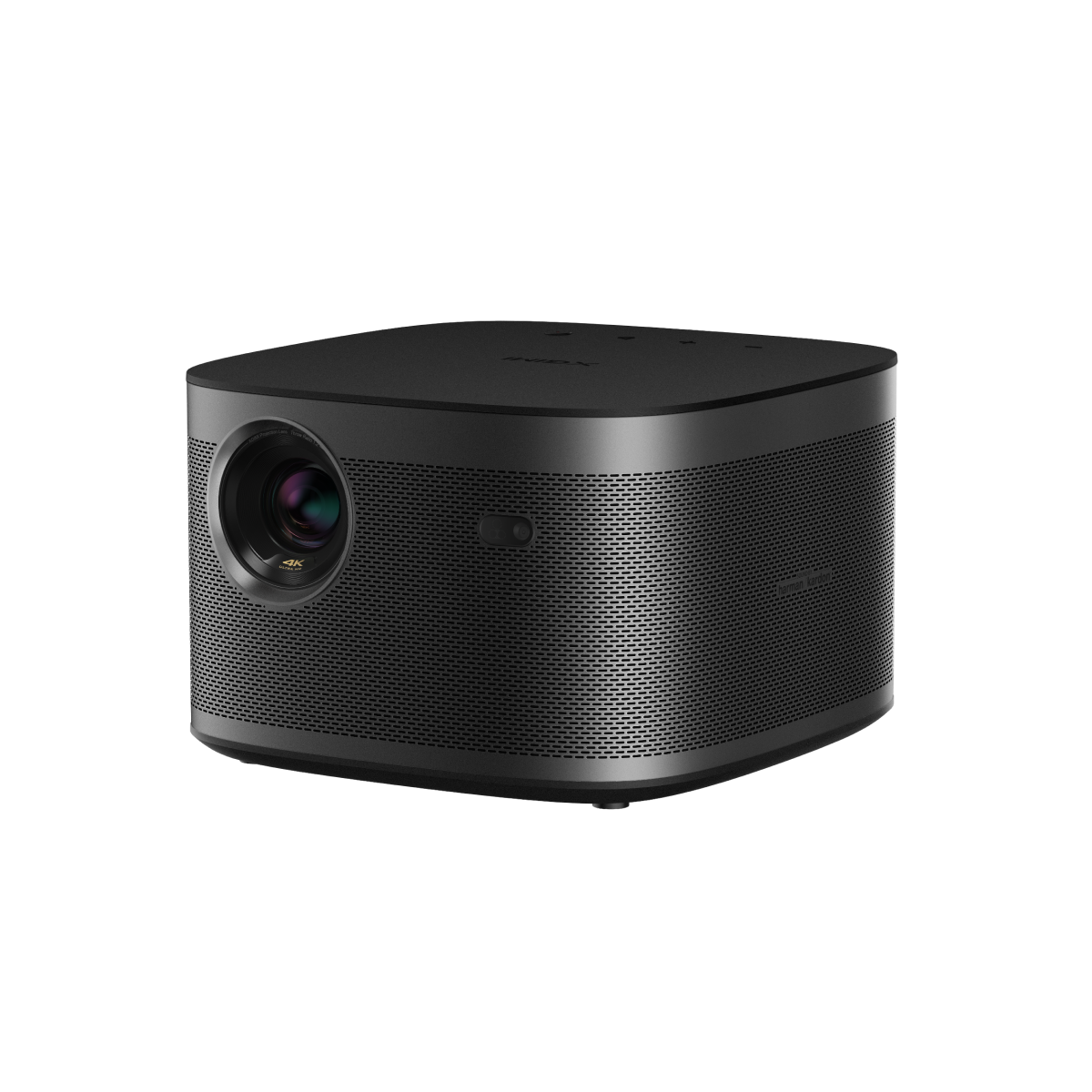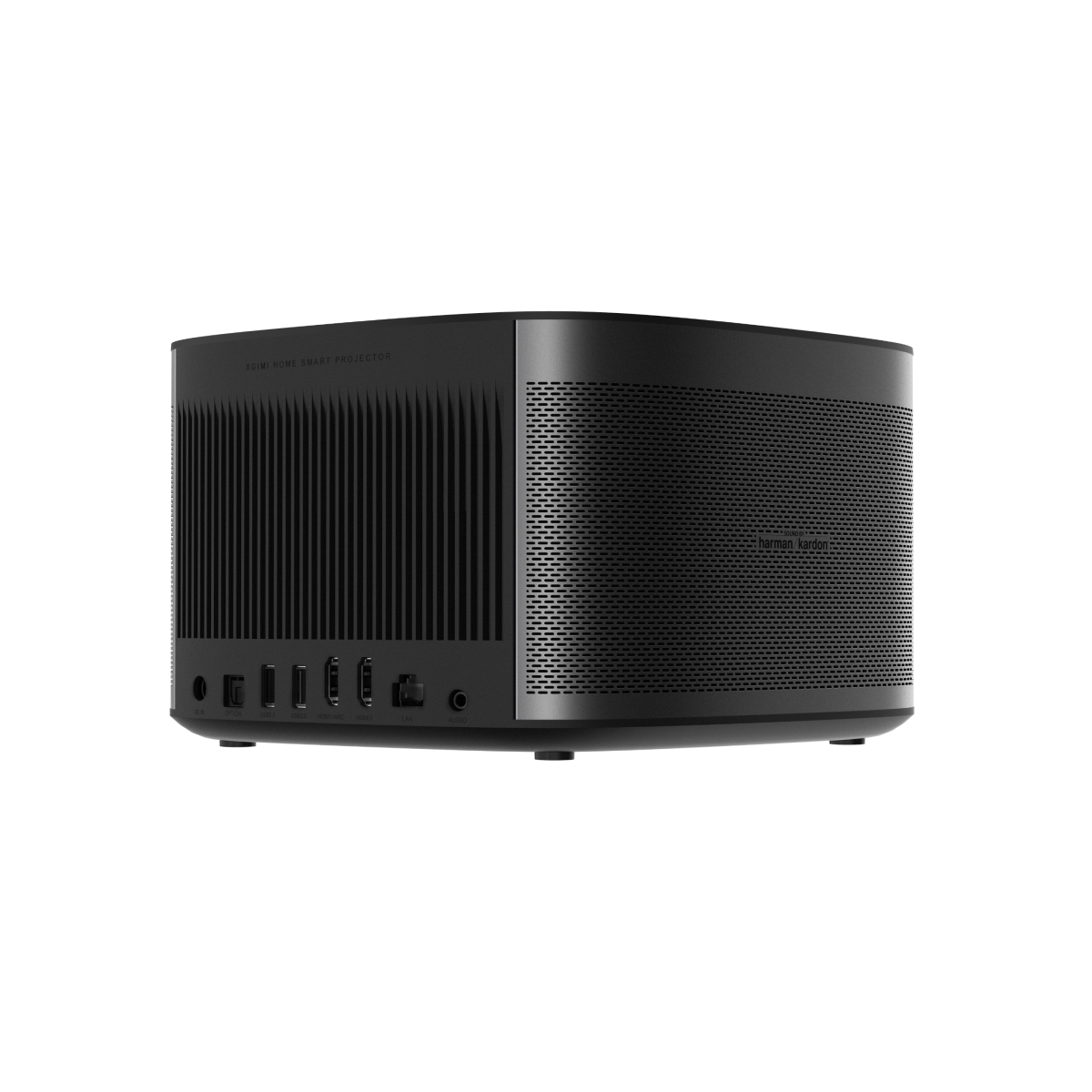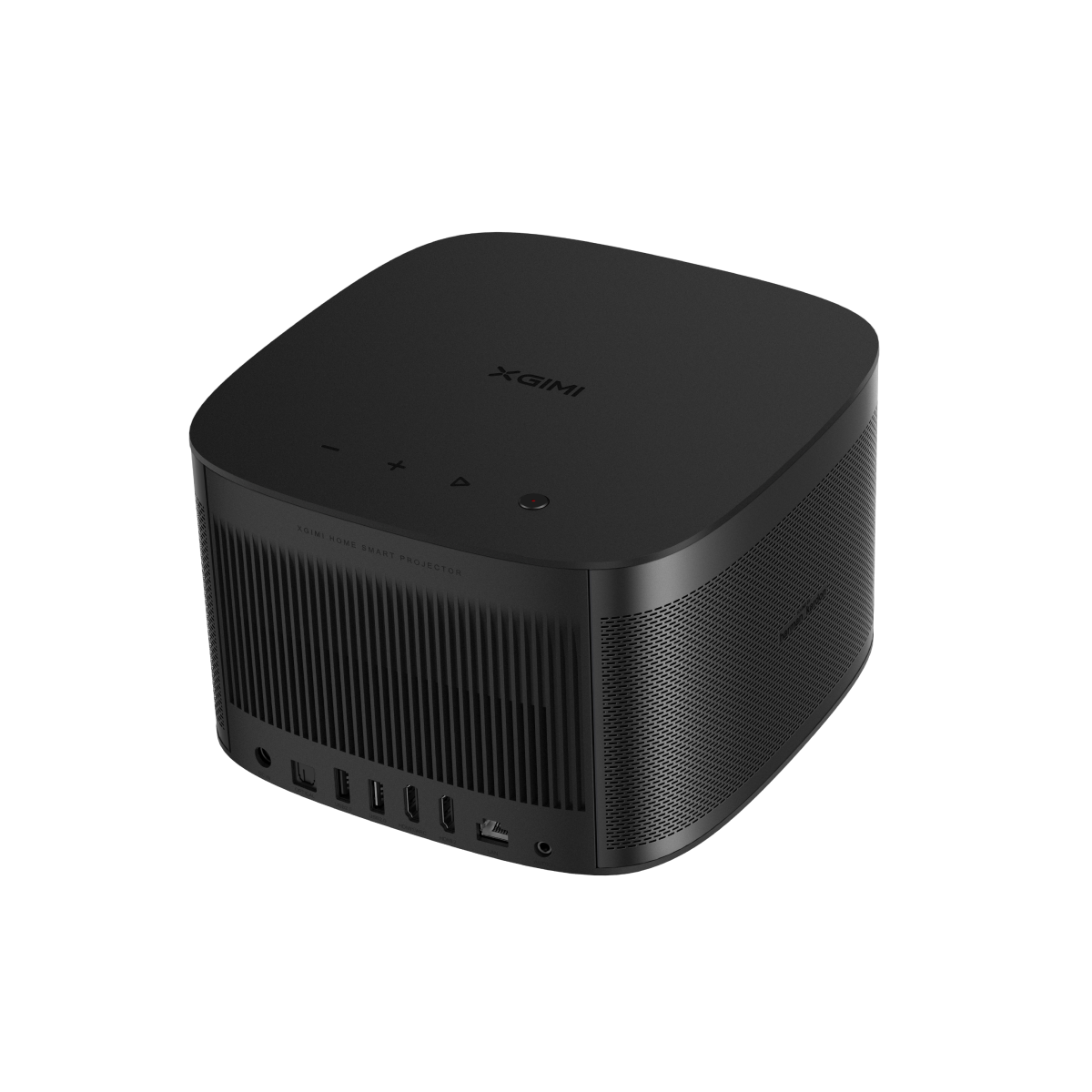 XGIMI AURA

(4K Laser Projector)
● Laser technology/ 2400 ANSI lumens: XGIMI AURA provides 4K crystal clear images and pictures using laser technology. The images projected are authentic and precise. With its brightness of 2400 ANSI lumens, the projector is perfect for use in dark and well-lit places.
● UST technology: Its ultra-short-throw technology is so powerful that it gives you a 120" screen from 11.7" away from the wall. Thus, you can enjoy your favorite TV shows from a distance and any angle.
● X-VUE Image Engine: Produces a colorful display of colors, thus making your movies, games, or images realistic and lifelike.
● Harman Kardon speakers: These two speakers are designed to produce a rich and room-filling sound at all times.
● MEMC feature: With MEMC, low image blur is eliminated, especially in fast-paced movies or sports.
● Multiple ports: Supports connectivity giving several options (3× HDMI, 3× USB, 1× LAN, 1× Headphones 3.55mm) for connections of gaming consoles and laptops.
● Chromecast/ Bluetooth and WiFi: Screen mirroring is possible through the built-in Chromecast feature. For advanced connectivity, Bluetooth and WiFi are available and compatible for other smart devices to run with the device.
● Android TV™: Provides access to over 5,000 apps for premium entertainment, such as HBO Max, HULU, and Disney+ for nonstop entertainment.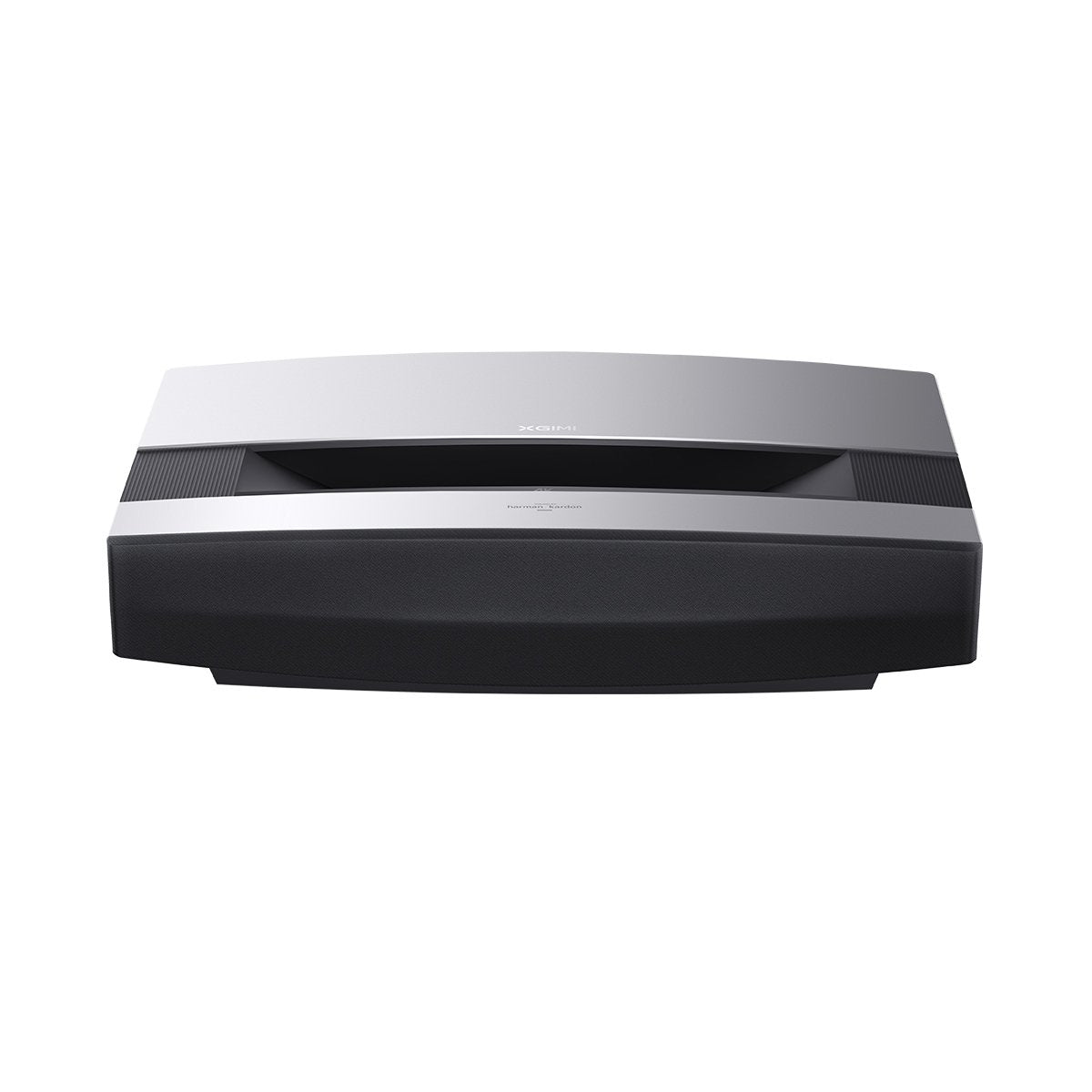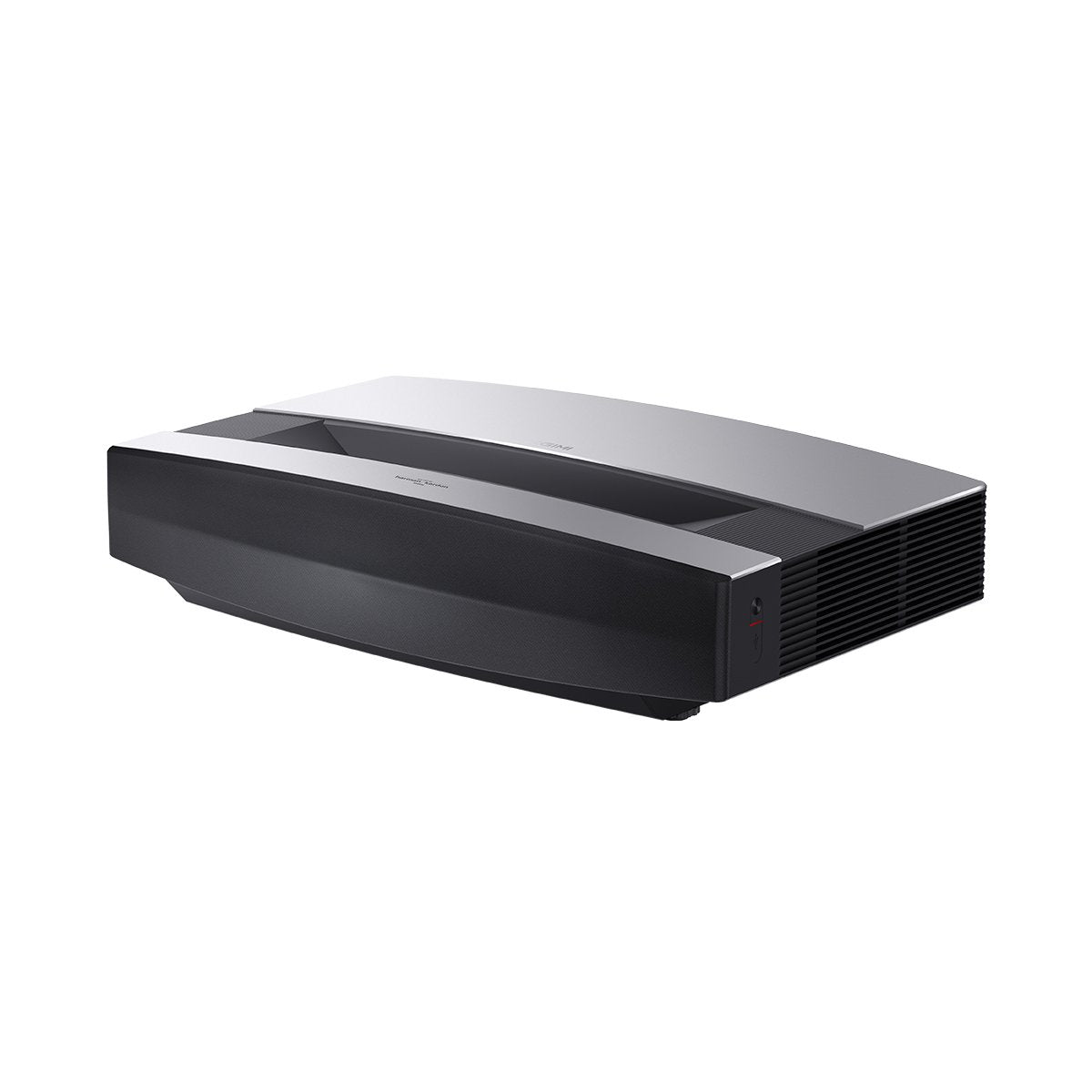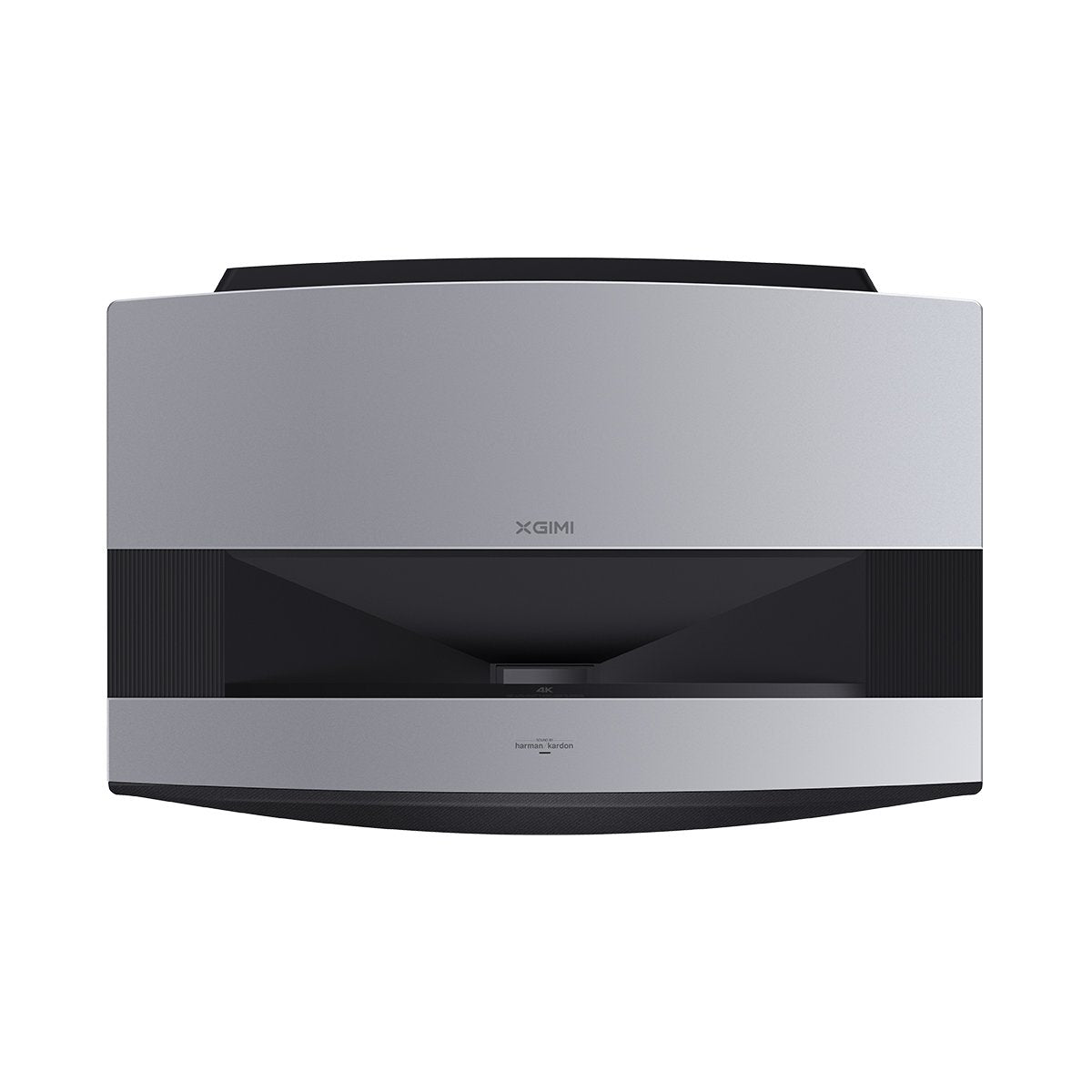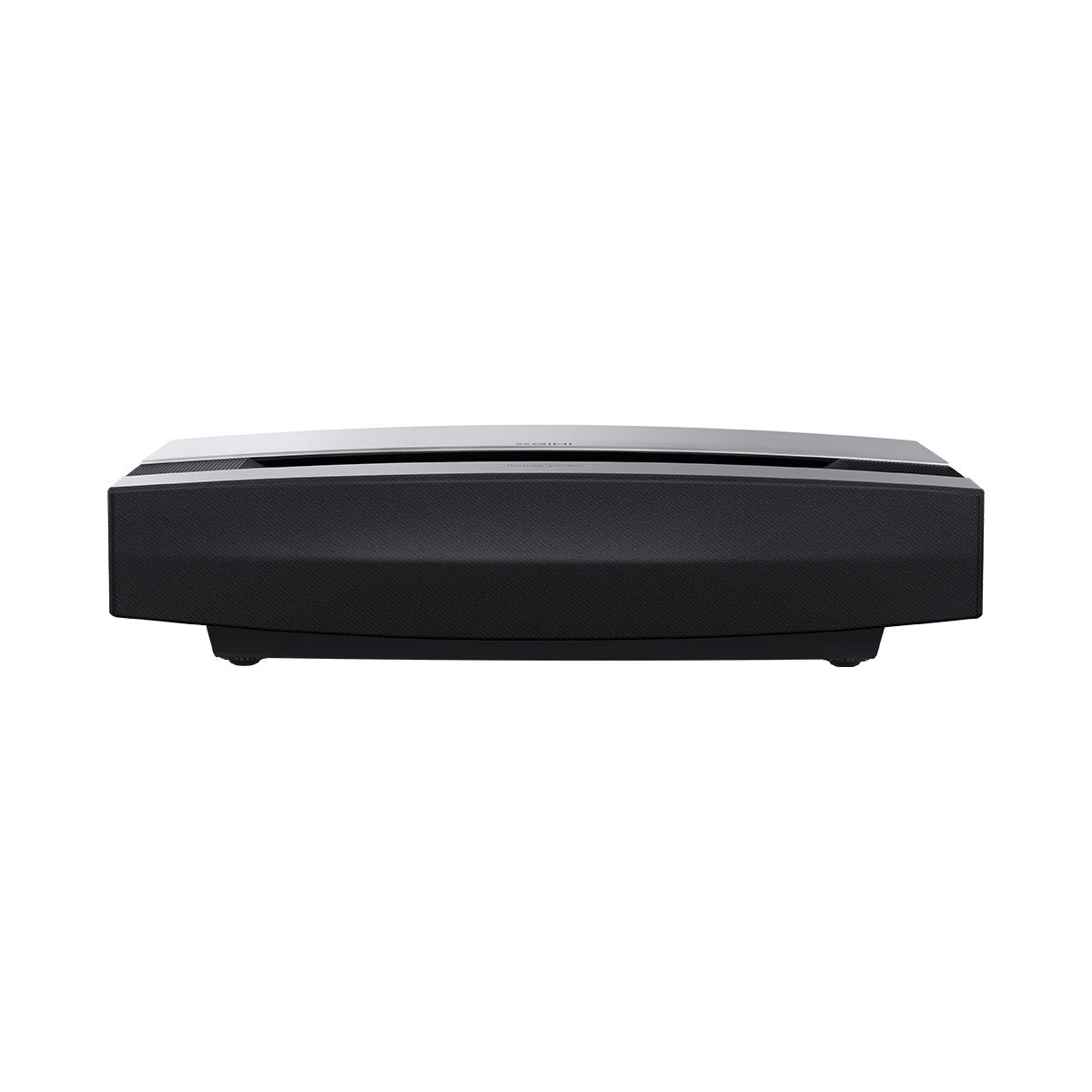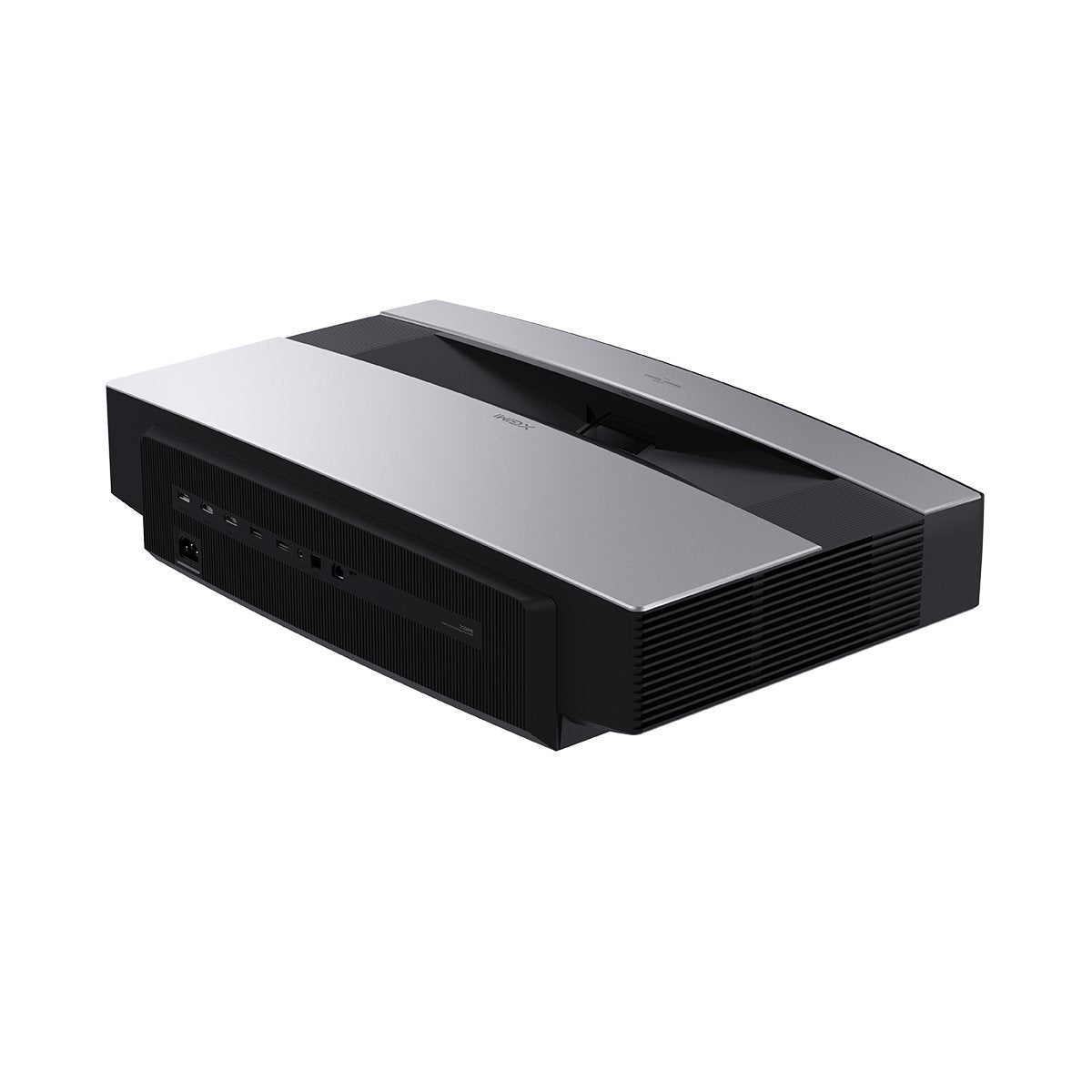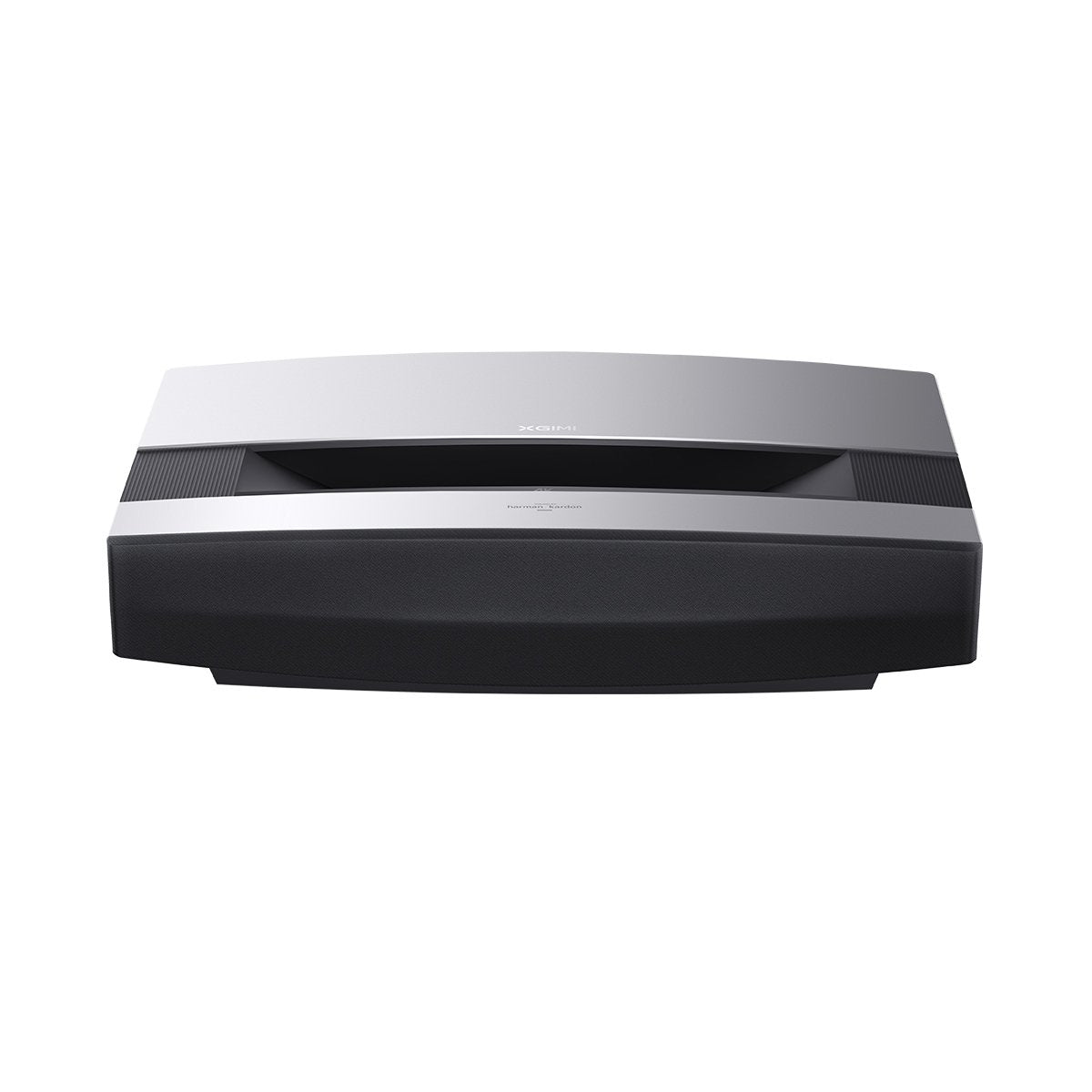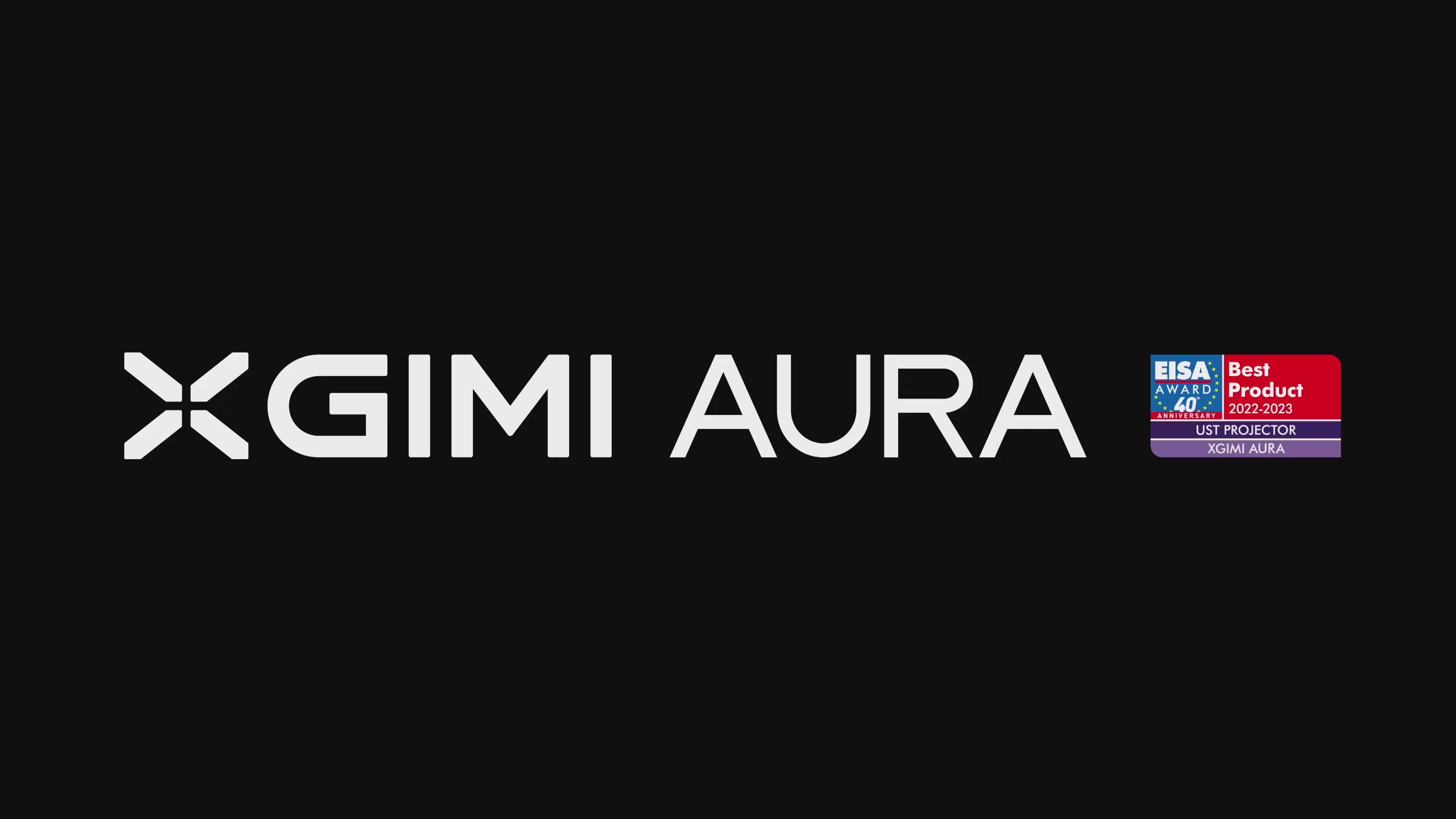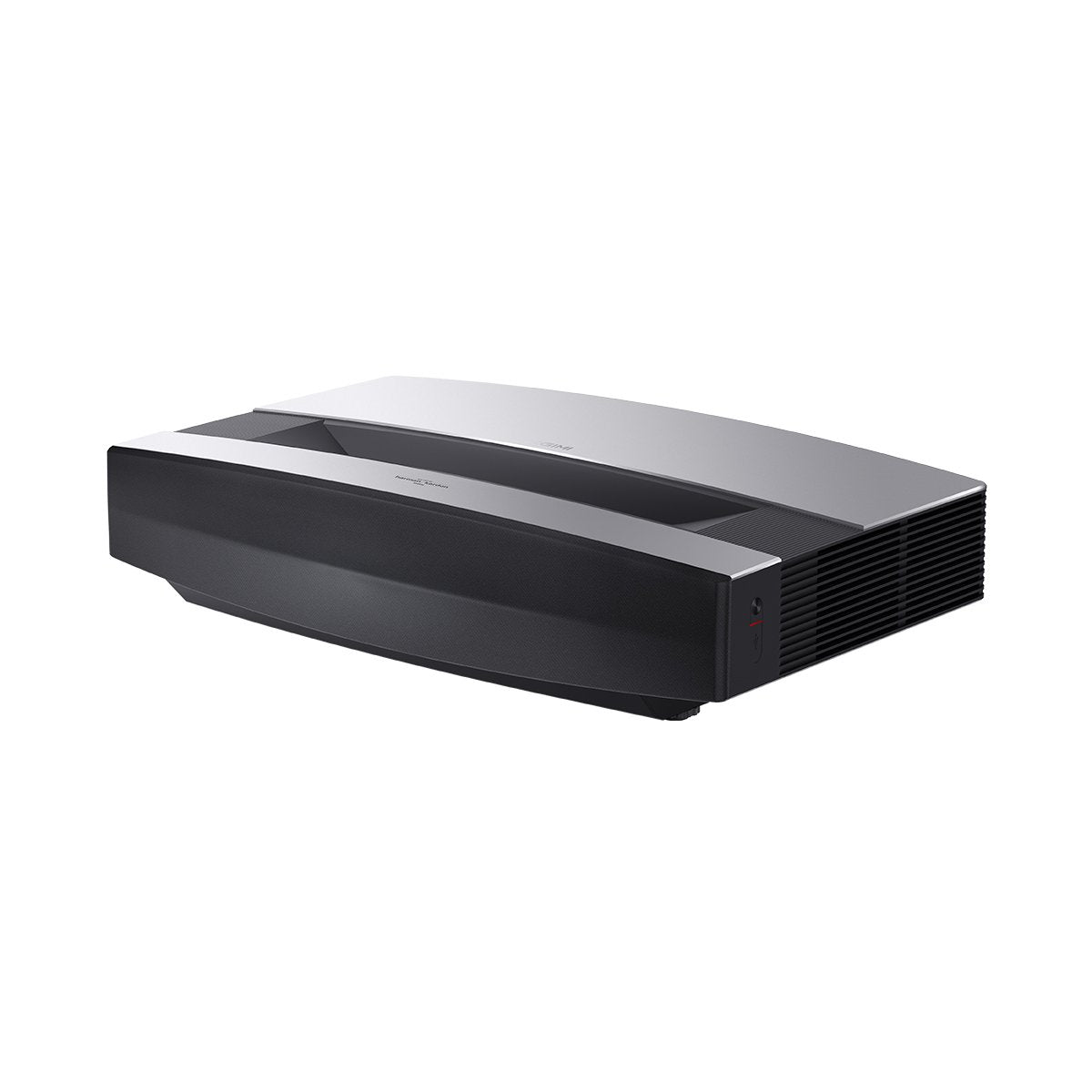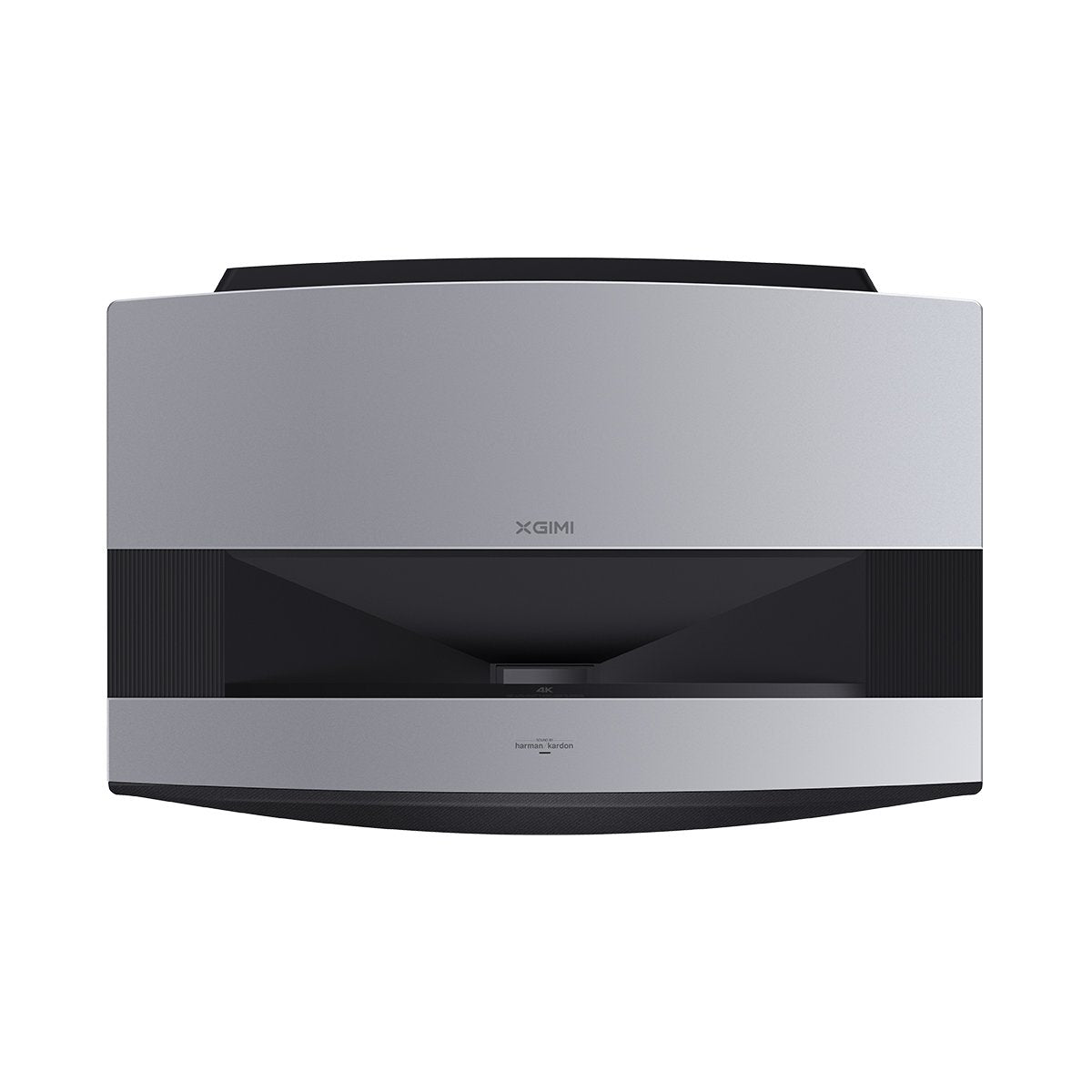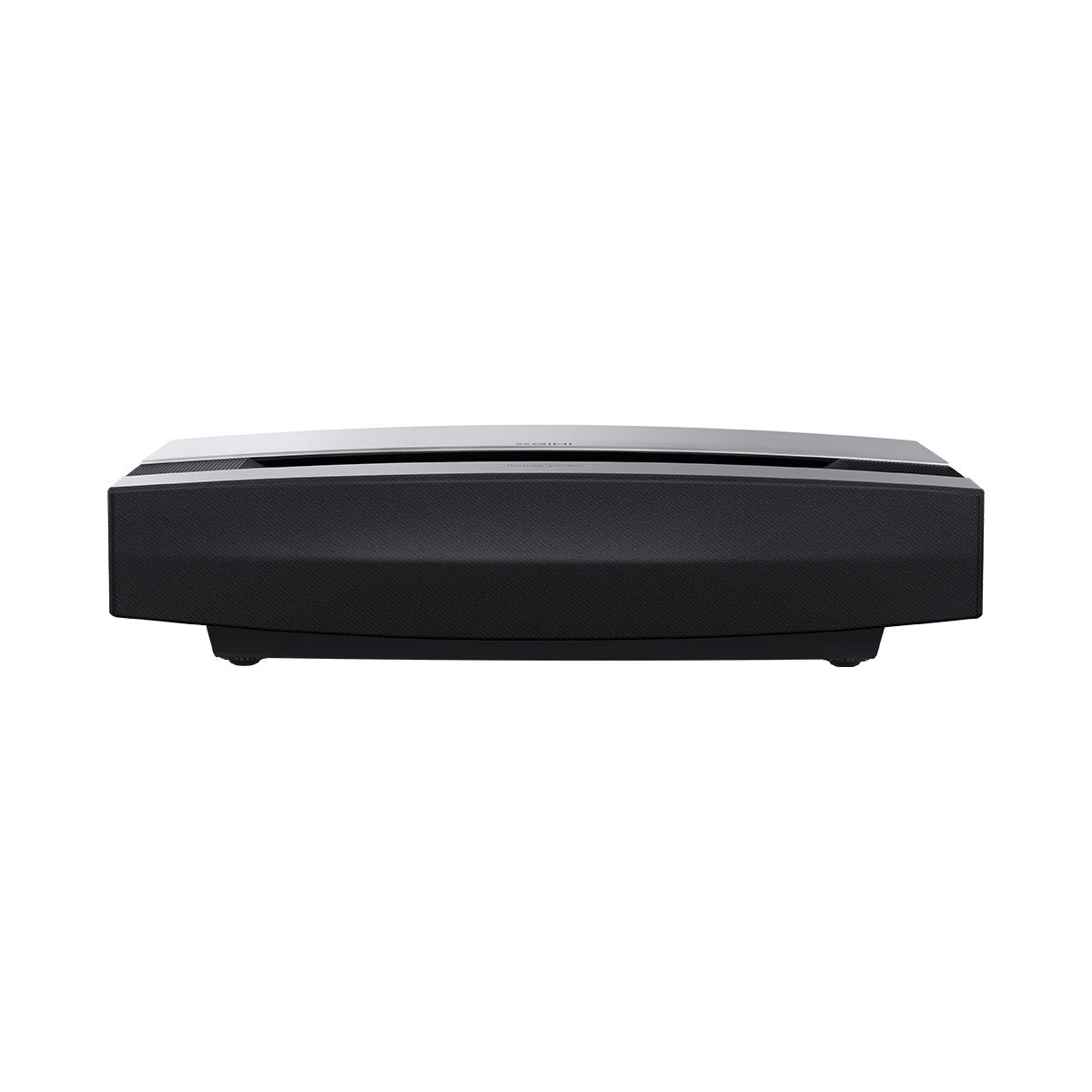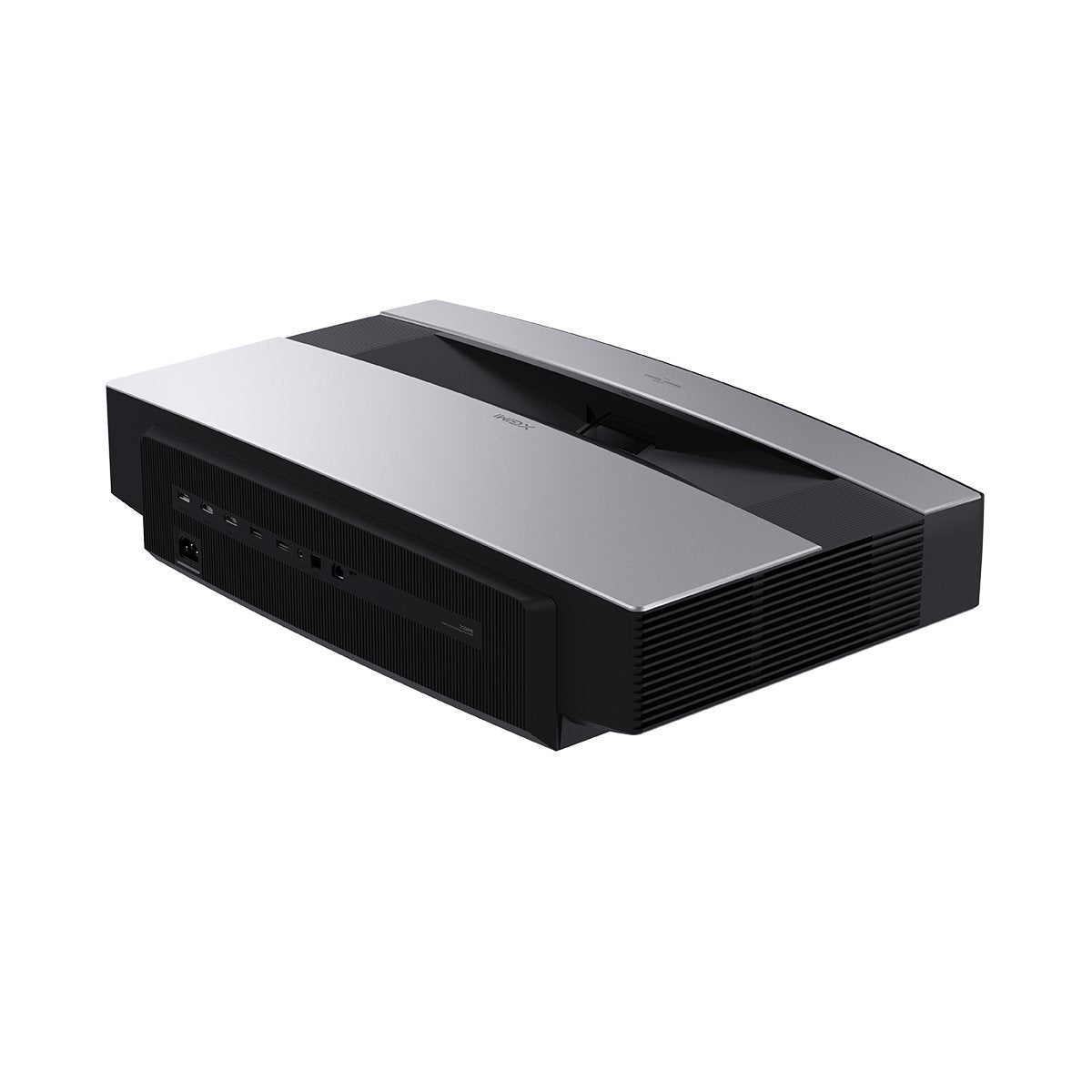 Conclusion
When thinking of a smart projector to buy, a 4K projector is considered the best option. These projectors have a four times display quality than the regular 1080p. Thus, there is a guarantee of crystal clear images and videos. With these projectors, movies, games, and images appear realistic and authentic. In addition, they allow you to watch movies conveniently from a comfortable distance as they are not pixelated as other intelligent projectors. These projectors are also quite affordable and very readily available.
Transforming your gaming experience is possible with these projectors as certain gaming consoles work better with 4K home theater. XGIMI projectors, HORIZON Pro, and AURA are excellent 4K home projectors that would transform your viewing, movie, and gaming experience and make it worthwhile and pleasurable.
Get $30 off Your Next Purchase
Join the XGIMI Community Today!