Why the AURA Laser Projector Is An Excellent Option For Your Viewing Needs
By XGIMI Tech - 2022-08
Why Pick Laser Projectors?

Laser projectors with 4K picture quality like AURA can help you create the fantastic home theater you have always dreamed of to fit all your viewing needs. XGIMI AURA stands out as an excellent 4K laser projector with outstanding features like ultra-short-throw technology, 4K picture resolution, and 2400 ANSI lumens, all of which make it an ideal fit for your dream home theater.
This article will discuss the differences between laser and LED projectors, highlighting their pros and cons, provide brief recommendations for choosing both projector types and review the numerous AURA features which make it an excellent fit for your home theater.
Differences Between Laser And LED Projectors

LED projectors use light-emitting diodes to project video content on a flat screen. They are also relatively lightweight and compact as they are not designed with heavy and complicated parts.
Laser projectors, on the other hand, produce the desired image on a screen through changing laser beams. As a result, the projected photos and videos are often brighter and with more accurate colors. For full-color projections, these devices rely on separate red, green, and blue lasers.
Both LED and laser projectors can efficiently deliver desired projections, so you should choose the one which fits your dream home theater. Here are some pros and cons to guide you in choosing between LED and laser projectors.
LED Projectors

Pros
Usually compact and lightweight since they no longer have heavy electric components like lamp projectors, thus making them easy to handle and move about within the home.

LED projectors consume less power since they use light-emitting diodes, which are less energy-consuming to project images and videos, allowing them to run for a long time.

Cooler and safer when in use because the LED mechanism within them exerts less stress on the projector's lens, thus reducing the risk of distortion or degradation.

LED projectors are less expensive and do not require much maintenance.
Cons
Not as bright as laser projectors, so they are not always satisfactory in different light conditions. For instance, the projections of an LED projector in a room with ambient light may not be as bright and clear as you would prefer.

LED projectors often have a lower picture quality and video resolution when compared with laser projectors. So projections done on a wall or another surface other than the projector's screen may appear less realistic and authentic.

Compared to laser projectors, they can be noisy during use.
Laser Projectors

Pros
Comes with ultra-short-throw technology, which offers a widescreen display from a short distance. As a result, they are ideal for various room theaters regardless of size or dimension. Can also be placed on the screen on a table close to the screen and still produce a fullscreen display making them a perfect fit for small theater rooms.

Produces high-quality displays using laser projection technology. Since the lasers create and project light directly, image quality and display contrast are expertly maintained.

Utilize lasers to create the projected images and videos; thus, they consume significantly less energy while producing high display quality, brightness, and contrast. They also require relatively low maintenance and offer near-instant on/off functionality.
Cons
Compared to other projector types, laser projectors are often quite expensive. Regular laser projectors cost between $2,000-$6,000, depending on their different features, as those with more advanced features cost more. They are often costly due to the components used in their design.

Relatively heavier and bulkier than regular projectors due to their build and design, so moving them within the home may be frustrating.
Although both projector types can give you a fantastic viewing experience, there are some factors you should consider when getting one for your home theater:
You should consider LED projectors if:
You have a home theater room with controlled light conditions at all times;

You are creating or building your home theater room with a limited budget as they are less expensive and more affordable;

You need a compact and lightweight projector that you can quickly move around within your home.
You should consider using laser projectors if:
You desire to watch movies and play games with high-quality displays and excellent contrast ratio;

You have a small home theater room and still want an ideal projector for your viewing needs;

You want to watch your favorite movies and shows in a room theater where the light conditions are not controlled.
What Makes the XGIMI

AURA

Excellent For Your Home Theater
AURA is a unique 4K ultra-short-throw laser projector that offers viewers an exciting and immersive viewing experience with the following fantastic features:
4K UHD/2400 ANSI lumens:

AURA is designed with actual 4K ultra-high definition resolution, which offers superb video quality and crisp image display so you can watch movies in a cinematic atmosphere. Also, its 2400 ANSI lumens brightness eliminates the need for external lights and allows projected images to stay crisp and clear even with ambient lights.

Ultra Short Throw (UST) technology:

Its advanced UST technology produces top-notch displays of different sizes without compromising space. So you get a 120" screen display from 11.7 inches away from any wall so you can watch your favorite content comfortably, making it ideal for small home theater rooms.

X-VUE 2.0 Image Engine:

Provides astonishingly rich color depth for lifelike imagery, thus resulting in an immersive viewing experience.

Harman Kardon sound:

Features two built-in two woofers and two tweeters at 15W each to accompany its superb video quality. With this room-filling audio experience, you can hear more sounds and conversations and be wholly immersed while watching movies or playing games.

MEMC:

MEMC (60Hz) delivers low latency rates, eliminates image blurs, and ensures that sports or action movies stay incredibly smooth and crisp when projected.

Multiple ports:

Comes with 3× HDMI 2.0, 3× USB 2.0, 1× LAN, and 1× Headphone (3.55mm), which allows you to connect the projector to other devices like laptops and gaming consoles.

Chromecast built-in/Bluetooth/WiFi:

Chromecast built-in allows viewers to cast images and videos from smart devices, while Bluetooth and WiFi provide advanced connectivity options for devices like tablets and smartphones, giving you an extensive array of content to enjoy all day.

Android TV:

Offers Android TV™, which provides easy access to over 5000 streaming apps, including Hulu, HBO Max, and Disney+, so you can watch your favorite content and stay entertained all day.
Find out more about AURA's powerful features here.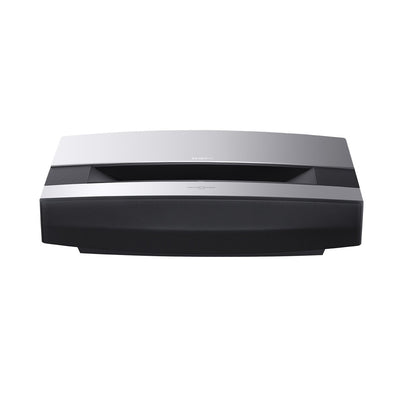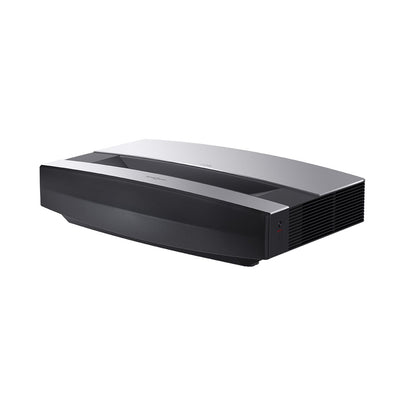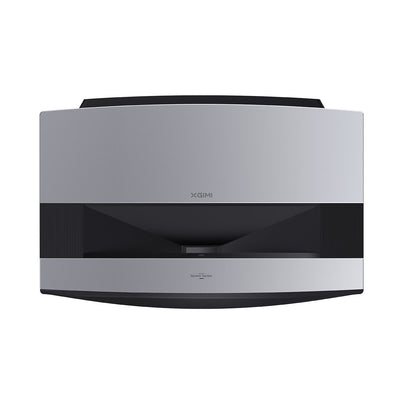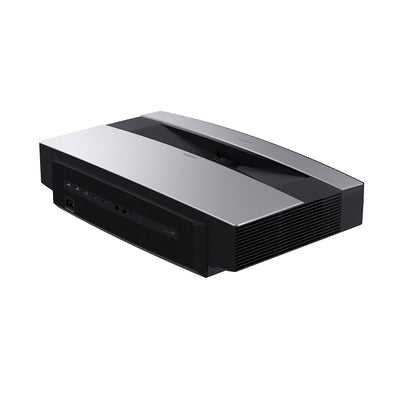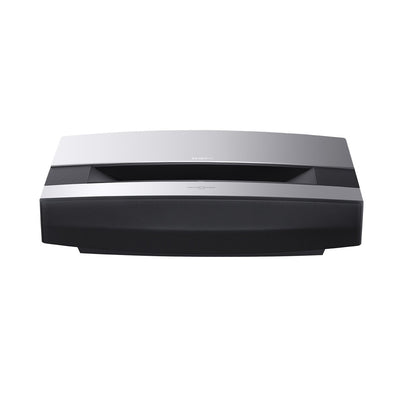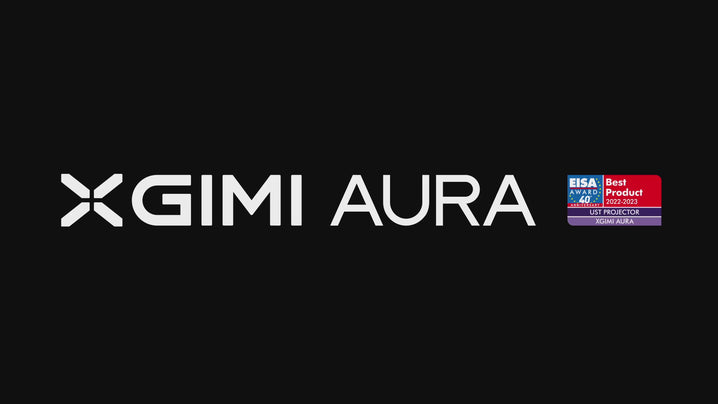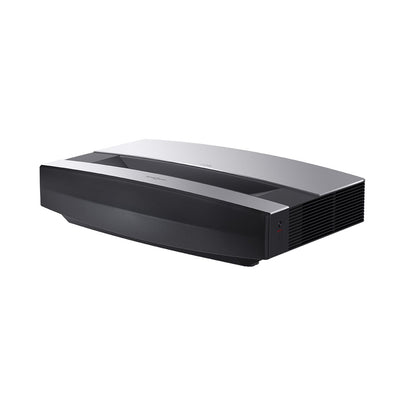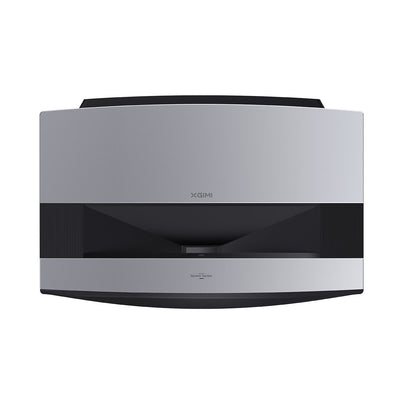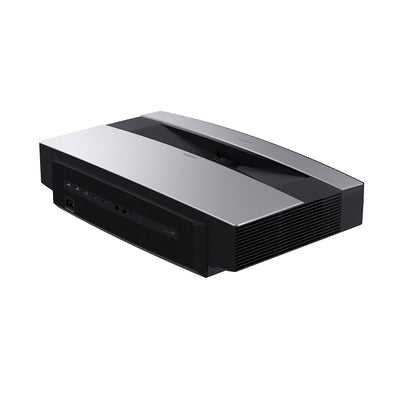 Transform Your Viewing Experience With the XGIMI AURA

With laser projectors like XGIMI AURA, your home theater experience is transformed as they produce crystal clear images and videos through laser technology. In addition, they are relatively easy to set up and handle and can easily fit various room theaters regardless of their sizes.
AURA, a 4K UST projector, is also a great choice as far as laser projectors are concerned as it has remarkable capabilities, image enhancement, and ultra-short-throw technology. Also, its professional Harman Kardon sound provides rich, room-filling audio. At the same time, Chromecast built-in, Bluetooth, and WiFi give viewers access to a variety of content and unlimited entertainment for everyone in the family, making it a valuable asset in any home theater.
Get $30 off Your Next Purchase
Join the XGIMI Community Today!